Though 5G phones will take a while to hit the refurbished segment, trade-ups are starting to impact it
The last couple of years have seen 5G make its first steps into the UK smartphone arena, since EE launched the country's first service in May 2019.
One segment that could eventually be key for the new technology is the refurbished market, given such phones' recent rise in popularity and predictions that they will be worth almost £50 billion worldwide by 2023, according to IDC.
For now, time has been limited for a refurbished market for 5G phones itself to properly get going.
Yet some say there are early signs of an impact on the overall refurbished market from the perspective of people trading in their old phones to upgrade to the new technology.
Fergal Donovan, European president of global refurbished product distributor PCS Wireless says, for one, that Apple bringing out 5G handsets towards the end of last year seemed to have spurred more activity here – with the latest iPhone 12 5G driving a rise in trade-ins.
"There is clear evidence that first-mover Apple users have been waiting for a 5G-enabled iPhone," he said.
"Apple and many of the UK's larger operators and retailers have been running programmes with large incentives to trade in older devices for the new 5G-enabled portfolio."
And the secondary market is something that Apple takes seriously, with the vendor recognising the opportunities it provides for those that can't afford brand new smartphones.
"Apple still dominates the secondary market for pre-owned devices," says Donovan. "Thus, any large uptake of new technology – in this case 5G – will drive increased trade-in volumes and consequently more products entering the secondary market.
"There is a good proportion of Apple- faithful consumers who have had to wait longer for 5G-enabled handsets, and this pent-up demand is clear in the trade-in and supply data."
Limited impact
But some say that 5G is yet to hit the refurbished market in a big way.
Damian Scott, business development manager at TES, which specialises in selling refurbished electronic equipment, has so far seen only limited stock of refurbished 5G models, including the Samsung Galaxy S10 5G and Huawei P40 Pro.
"The technology doesn't seem to have disrupted the market in the way that 4G did with 3G," says Scott.
Mazuma head of marketing Suzanne Parker believes that 5G will impact the refurbished market more in the next couple of years, once it has had more time to get going.
"So far the industry has not felt the full impact due to contract trends of 12 and 24 months, but we believe we will see more of these 5G devices in the secondary market in the next year.
"Samsung has existing older 5G models that we are slowly starting to see through our trade-in channel, but as the other brands expand their 5G model portfolio this will increase significantly."
The iOutlet co-founder and director Liam James agrees, cites pricing – with many handsets still at over £500 – and lack of nationwide coverage among reasons why 5G hasn't hit this market yet.
"It's not a massive thing right now. For us we tend to attack the £200 to £300 price point for our products, and 5G hasn't really hit that yet," he says.
"I also think that because of the nationwide coverage not yet being widespread and on all the networks, this has limited the demand or need for 5G handsets."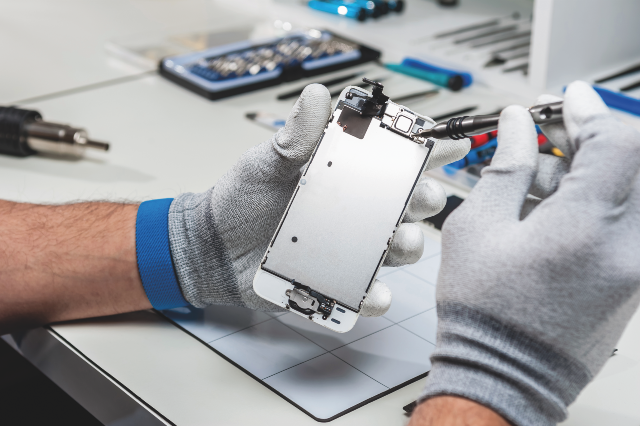 But even outside the refurbished market, industry consensus is that there is not yet a real consumer demand for 5G services.
Simon Baker, programme director for mobile devices in the EMEA region at IDC, says consumers don't buy handsets for 5G, but more for other features such as cameras. "People are more interested in phones for screens and whatever the camera is; I just don't think it's that important to consumers," he says.
Scott agrees: "To me, it feels like the technology [5G] is being pushed by the manufacturers and networks rather than being demanded by the consumer.
"We envisage that the majority of consumers taking a 5G device such as the iPhone 12 probably don't know or care about 5G. And although people will still trade up, it's probably not specifically for 5G reasons."
Obstacles to take up
Coverage and price are recurring themes when it comes to obstacles to 5G take-up.
EE, the UK's largest network operator, has launched 5G services in 125 UK towns and cities to date – but although that might sound like a lot of coverage, it only covers limited parts of these places.
Baker said: "Consumers are aware that 5G is not very extensive as of yet and there hasn't yet been a whole lot in it for them.
"Although Apple recently launched 5G devices, Android 5G models have only been on the market for a year and a half, and a good quantity of these have been premium models at very high prices."
Donovan though, remains confident the sector will see a boost in 5G models in the coming months.
"As 5G becomes more common in the device portfolios of Apple and Samsung, this will drive similar growth in the demand for pre-owned handsets," he says.
"In the coming months, we expect to see the demand in retail for pre-owned 5G devices grow and this will be further enhanced as B2B customers look to the total cost of ownership of pre-owned devices versus new."