In recent years, mobile insurance provider Assurant has turned its attention to device lifecycle management. With the ethos of offering a full service, it is also ramping up its operations with a robot fleet and new tech
As a provider of mobile phone insurance, Assurant has racked up an impressive list of clients that includes Deutsche Telekom, Telefonica and Monzo.
With a 130-year history providing lifestyle and household products and insurance, Assurant serves more than 300 million consumers worldwide and has 16,000 employees across 21 countries in Europe, North America, Latin America and Asia-Pacific.
But in the mobile market in recent years, the company has turned its attention to device lifecycle management, including mobile phone and gadget insurance, customer care, repairs, replacements, technical support, upgrades, fulfilment, recycling and disposal.
Its 2020 acquisition of HYLA Mobile, a US-based provider of smartphone software, trade-in and upgrade services, has helped Assurant expand its capabilities in the mobile space.
Assurant could not disclose local UK figures, but said the global business has seen five consecutive years of growth.
Mobile News travelled to Assurant's device care centre in Stoke to find out more about the facility and the direction of the business.
Repair facility
The device care centre is Assurant's sole device repair facility in the UK, with around 20 sites around the world.
The firm's UK managing director, Chris Woolnough, explained that having the centre has helped Assurant specialise in devices' continual lifecycle.
"If you look at the market, you'll typically have companies that are distributors with a background in shipping handsets or big traditional companies that just focus on insurance and don't have a facility like this," he said.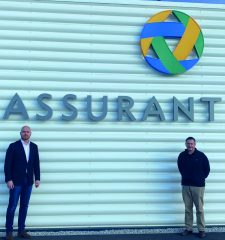 Many of the operations and staff, such as the sales team and the device care centre, are in the same building.
"What's different about Assurant and makes us unique is that we're all of that. That all-under-one-roof theme is something we focus on by providing a full service offering to clients and customers."
The facility was built during the pandemic and opened in May 2021, making it one of the UK's newest repair and refurbishment centres for mobile devices in the UK.
Around 100 skilled specialists work in the 30,000-square-foot device care centre, designed for quick testing, repair and replacement of broken devices while having little environmental impact.
Simon Harper, head of the supply chain for Europe at Assurant, said that the facility has been created with future expansion in mind, including the use of vertical storage units that save 75 per cent of floor space.
"This is a business where scale is important, so the more volume you can put into a single facility, the more efficient it gets," said Harper.
"As we grow, we will funnel more volume through this facility and we have the potential to build another level here when we do fill up more space."
He estimated that between 1,000 and 2,000 devices come through the facility every day, with prices for repairs ranging from £15 to £1,500, depending on the screen, components and device.
Sometimes, Assurant finds it more efficient to give a customer a new device, which can be agreed with larger brands and bought at a discount.
Little landfill
Harper stressed, however, that the company strives to extend the lifecycle of any device so that "very little ends up in landfill".
Although it may not make sense for Assurant to repair some devices, he said that doesn't mean the company can't harvest or sell the parts.
"We harvest all the components and sell the circuit boards to specialist processors that will get the precious metals out," said Harper.
Assurant has repurposed more than 100 million devices globally in its history, recycling around 1.5 million devices in 2020 alone.
Woolnough adds that it is important for the firm to focus on being sustainable in the long term, implementing this into its working methods.
"A great focus for us is how we take forward sustainable models," he said. "Whether it's recycled packaging or removing plastic from all of our packaging, we want to focus on this and continuously grow as a business."
Rigorous process
An engineer called Ash told me that the devices go through a rigorous process on entering the facility, including getting booked onto a system, going through a quality-control check and kept in vertical storage units until needed.
With customer returns, employees separate devices based on priority of how severely damaged they are. These are then booked in and checked to see if they are eligible for in-house repair.
"If it isn't eligible for repair, we make sure the customer has received an exchange order and then it will move into our triage," said Ash.
There is also a channel through which failed refurbishments pass. Assurant will sell these in bulk to other businesses around the world, which can then look to refurbish them using their own processes.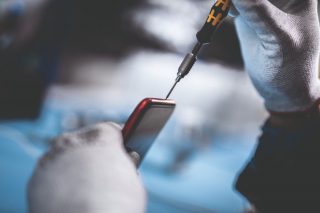 65 checks
Every device that enters the facility goes through 65 functional and cosmetic checks, including diagnostic testing that has been approved by Apple.
Devices are graded from A to D under strict criteria, with Ash showing me a device that looks perfectly fine but that he says can't be labelled as an A grade.
"If you look at the lens, there is a piece of lint under the glass," he said. "It's really tiny, but our operatives will pick up on that and make sure it's perfect."
Lens reconditioning is one of the most important parts of the cosmetic process.
In this procedure, devices go through a machine and a diamond paste is used to remove any micro scratches found on the phone.
Depending on the quantity and extent of scratches, it can take between seven and 18 minutes to fully remove them before the device goes through another quality control check.
"These machines and the automation are consistent, and you cannot get this from a manual process," said Harper.
"The polishing is of a higher quality and more predictable, supporting the investment we are making in technology and new capabilities for our customers."
Rise of the machines
To soup up its processes, Harper revealed details of a new multi million pound investment. 
This includes 26 robots that will soon be added and an Assurant RescuTech machine that is already operational in the facility, which helps remove liquid damage from devices.
"In a few weeks' time, we're going to have our own robots that will automate traditional processes," he said.
"There will be robots that will take devices through the facility.
"Once each activity in the process is finished, a person will pop the device onto a tray and the robot will take it onto the next stage."
The company claims, meanwhile, that the Assurant RescuTech machine is something that is exclusive to the company in the UK.
Harper explained that water can cause components to rust or corrode, so the machine uses a chemical process to fix this.
"We put the components into these trays, and put this into an acid bath over a period of hours to reverse oxidation," he said.
"We have maintained the device lifecycle through buying this machine, and 80 per cent of devices that go through Assurant RescuTech have returned to full working condition.
"We are very proud of this facility and are investing in new processes in automation to innovate for our customers.
"We're here and we're investing for now and for the future, and we believe that investment will deliver a better customer experience."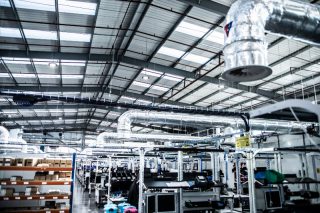 Connected home drive
In terms of further investment, Woolnough says that Assurant wants to put more money into repair and refurbishment services for the connected-home segment.
"Customers could have 30 devices in their home connected to WiFi and if they break, they need protection and technical support," said Woolnough.
"With all of these devices in your home, you might struggle to work out how to connect them, so we have built a whole series of services around that; that's where we see the future going."
Woolnough says, meanwhile, that to meet different customer requirements, Assurant will continue to focus on and invest in providing a range of fulfilment options, such as mail-in, walk-in, doorstep exchange and same-day replacement.
"People don't want to be without their phones for obvious reasons," he said. "Sometimes it's convenient for them to send it here and we can fix it, but we also have an extensive high-street presence, whereby you can walk in for same-day replacement.
"So depending on the client, who they are and who their customers are, we're really a company that can work with them to come up with specific solutions that can be unique just to them."
Pocket Geek
Woolnough and Harper explained that Pocket Geek Tech Repair by Assurant is a high-street brand – with 14 stores at present and more set to appear across the UK this and next year to help make customer repairs more accessible.
"The great thing about Pocket Geek Tech Repair is that we use the Assurant standard process to deliver a consistently high level of service through that channel," said Harper.
"What we find is that customers can go to a retail shop and have an approved repair, and that the customer satisfaction of that experience is much higher than just mailing it into a location like this.
"So we're continuing with this and providing different options; it's about choice for the customer."
Woolnough echoed this point about the need for options: "Across our customer base, we have vulnerable customers and we have customers whose lifeline is their phone, so our job is to make sure their experience is as seamless as possible and as quick as possible," he said.
"You get that device repaired and you get it back in a great state which feels like a brand new phone; that's what we achieve and what we will continue to do."