Ocushield has spotted a big space in the market for screen protectors as awareness grows of damaging effects of light. After winning – then rejecting – a deal in

Dragons' Den

, they anticipate a bright future ahead
They were the duo that caused fireworks between two of the UK's wealthiest businessmen on Dragons' Den with their company, Ocushield, which sells products that diminish the harmful effects of blue light emitted by tech products.
Seeking a £75,000 investment for a five per cent stake in the business, Dhruvin Patel and Asad Hamir caught the eye of both Peter Jones and Tej Lalvani on the hit BBC show in an episode broadcast at the start of this month.
During the pitch, the two Dragons quarrelled over who would be better suited to expanding the company, and would ultimately do battle to secure a deal.
But in the name of a slow burn before the reveal, let's take a step back to the origins of Ocushield first.
The mobile accessory business was born from Patel's research into the harmful effects of blue light on people's eyes while studying optometry at City, University of London, from 2012 to 2015.
When working at Vision Express in a weekend role at the same time, he was also introduced to lens coatings for glasses that mitigate blue light.
As he was aware that blue light was everywhere, including as a component of sunlight and in light from digital devices, he wanted to research the subject further.
The most harmful blue light is known as high-energy visible (HEV) light, which induces retinal damage and contributes to inflammation of the skin.
Blue light falls between wavelengths of about 380 and 500 nanometres (nm) in the electromagnetic spectrum. As described by Ocushield on its website, the most harmful part of this is known as high-energy visible light, at wavelengths of up to about 450 nm within the blue-light range.
This can cause symptoms such as retinal damage, inflammation of the skin, eye strain and headaches. Patel pitched the idea for further researching this area to his faculty, which approved him doing a third-year dissertation on this very topic.
In his research, he found that 30 hours of exposure to blue light from smartphones or laptop screens can increase inflammation levels in skin cells by 40 per cent.
On discovering that prescription glasses only limited 15 per cent of blue light emitted by digital devices, Patel saw that a real solution was needed.
After spending the next year and a half researching and manufacturing his product, Ocushield was born in 2015 in the guise of a glass screen protector that clips onto the front of a mobile screen and filters out blue light.
The company has since expanded its product line to multiple different items compatible with hundreds of different devices from smartphones to laptops and monitors, as well as anti-blue light glasses and a portable reading lamp.
According to Ocushield, its products block up to 99 per cent of harmful UV and blue light emissions between 300 and 400 nm, and 40 per cent of harmful blue light between 400 and 470nm. Patel began trading from his dorm room with limited resources. In 2015 he received grant funding from CASS business school, and with that money he began developing prototypes for his products.
Within the first 18 months, he banked more than 1,000 pre-orders, covering six devices at the time. Patel only went full time with the business in 2018 and has seen the Ocushield business grow exponentially since.
In that time, Patel has acquired Hamir as his primary business partner. Hamir, himself an established tech entrepreneur and founder of Kite opticians, was giving a speech at City University when Patel approached him with the idea.
DONE DEAL?
Back to 2021 and the Den: Patel professed that he would love to have Jones and Lalvani on board, given the former's history in the tech industry and the latter's specialism in the healthcare market with his company Vitabiotics.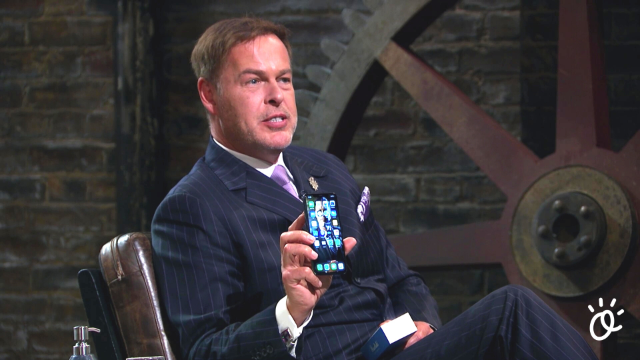 Both Dragons vied for a stake in the business, resulting in friction between the two as Jones boastfully proclaimed, "I know you've come into the den to get me today". Retorted Lalvani in pitching himself to the entrepreneurs: "You're building your brand, and that's what I do – build healthcare brands."
But in the end, it all turned out amicable after some back and forth between the pair of Dragons, each finally accepted a 7.5 per cent stake in the business for £75,000 in total.
Yet there was still another twist in the tale. Patel says that while there was a "virtual high-five" on the deal, it was never actually finalised after filming of the Dragons' Den segment was completed last September – although the programme only aired this month.
Nevertheless, this was for reasons that actually reflect the success of the business. In the show, the projected revenue for Ocushield for the 2020-21 financial year was £1.8 million, yet the company passed that figure by taking £2.4 million without the Dragons officially on board. Patel and Hamir therefore asked if the valuation agreed could be renegotiated, but Jones and Lalvani couldn't do this because it would set a new precedent for the format of the show with the deal not being final once recorded.
"When you're growing the business and fundraising, it would have been difficult to attract other investors to the company if we accepted the terms from Peter and Tej because the valuation would have been so poor," Patel says.
The duo therefore made the difficult decision to decline the deal offered to them, but continue to fundraise to grow the business and expand the team, and are welcoming investors to the project.
'MASSIVE' OUTCOME
Despite the deal not panning out, Patel says the fact that Jones and Lalvani believed in the brand and decided to make an offer is "massive" for the company as it continues to grow.
"The response to that moment has been incredible," says Patel, with Ocushield seeing a fourfold increase in new customers coming to the website since the episode aired. "This not only shows the power of television, but also the strength of the pitch and how it resonated with audiences."
Patel says the initial 90-minute pitch was condensed to 13 minutes, while favourable BBC editing ensured that he and Hamir looked comfortable on screen.
"For us, it wasn't just an opportunity to get the Dragons on board, but in that 13-minute space, we were also able to tell UK audiences what blue light is, how it affects them, and why we are the best product to solve the issue," he says.
Patel adds that the Dragons' Den experience has allowed himself and the company to amplify the product's 'hook', providing it with increased leverage in the UK market.
"Off the back of the show, we've had multiple enquiries from retailers and distributors, who we've had conversations with regarding possible partnerships," he says.
And the company has big forecasts for growth, predicting that revenues will rise to £6.2 million in the 2021-22 financial year, and hit as much as £46 million in 2025-26.
FOCUS ON HEALTH
With more people working from home than ever due to the COVID-19 pandemic and awareness of the negative effects of light increasing, consumer demand has risen significantly, according to Patel. Along with expansion of the business, this has aided the surge in sales.
And Patel says that although smartphones often come with 'night shift' modes that are beneficial in terms of altering the light on phones in the evening, these were made specifically for night-time although blue light affects users throughout the day.
"Our products limit blue light without changing colours on the screen or giving off a slight orange tinge, ensuring crystalclear clarity," he adds.
And unlike smartphone vendors, Patel says that despite selling products in the mobile accessory space, he sees Ocushield as a healthcare brand first and foremost. This means that it properly specialises in that area.
That factor is also why he registered Ocushield products with the Medicines and Healthcare Products Regulatory Agency (MHRA), an executive agency of the Department of Health and Social Care whose remit is to ensure that products such as drugs and medical devices are safe for the market.
"All of our products are Class 1 medical devices, in accordance with the MHRA," he says.
"In terms of competing with other products in the market, customers can be sure to trust us, as these products are developed by optometrists and we have a duty of care towards them to ensure that our products work."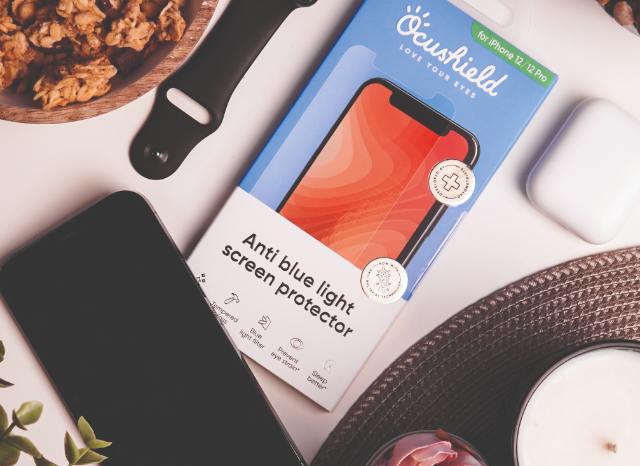 Patel and Hamir are also backing the wider cause of mitigating the rise in eye health issues, having committed £1 from every purchase on the Ocushield website to the Royal National Institute of Blind People.
Alongside this, Patel says the company is placing an emphasis on the sustainability of products, which has become an increasingly important consideration among tech consumers in the past few years.
Research from O2 published in June, for example, revealed that 75 per cent of 18-to- 24-year-olds would be more likely to consider devices with better green credentials.
Patel points to the biodegradable material used to package Ocushield products and says that the company's packaging for future iPhone12 and 13 screen protectors will be 100 per cent recyclable.
He hopes that this sustainable approach will convince consumers to purchase more Ocushield products, creating a "cross-selling ecosystem" for the portfolio.
EXERTIS DEAL
With the company's products now sold in Superdrug Opticians, Best Buy, Urban Outfitters, Maplin, Robert Dyas and Office Depot, Patel's sights are firmly set on expanding the business – having recently signed terms with Exertis-owned company
Hypertec on a distribution deal. "We are available across the EU on Hypertec, which presents B2B opportunities to us because we can sell products through a new channel that we haven't utilised before," Patel says.
Ocushield products are also already available in 80 of the 100 Nordstrom department stores in North America, and he expects significant strides to be made in the region in the coming years, with further partnerships planned.
"Ocushield is a UK business, but there are many more people out there that could benefit from the blue-light-protecting screens," Patel explains.