As Xcess Trading approaches 10, former star of The Apprentice Debra Barr talks about the firm's journey
In recent years, the appetite for refurbished electronics goods has become more and more popular in the consumer electronics industry.
You just need to look at the amount of money the refurbished smartphone industry is estimated to be worth, with IDC putting the figure at £47 billion by 2023.
And it's not just smartphones, there's also a growing demand for refurbished PCs, laptops and other electronics products.
And one company that is playing right at the heart of this industry is Xcess Trading, a firm headed up by Debra Barr, a former star of The Apprentice.
Since launching in September 2011, her firm has focused on redistributing excess electronics stock and management of returned devices, and in more recent years has ramped up its efforts in the refurbishment segment.
"I never thought I'd own a refurbished business in Stafford," she laughed, as the firm prepares for its tenth anniversary this September.
Xcess Trading specialises in helping UK retailers, distributors and brands to manage their asset disposal for excess stock, end-of-life products and customer returns.
Due to the pandemic, face-to-face meetings have become a rarity, but Mobile News was able to sit down in London with MD Barr, the firm's UK sales director Nina Frape and technical director Ben Powell.
So it was a welcome chance to speak with people from the mobile industry in person once again.
Beginnings
Barr founded Stafford-based Xcess Trading just two years after she appeared on The Apprentice, coming a respectable third and narrowly missing out on a place in the final.
Her vision for Xcess Trading came about while she worked at Stockshifters.com, a former wholesale marketplace in which e-commerce sellers could buy stock online, not long after her stint on the show.
"I worked for Stockshifters.com, which had a brilliant idea for creating a B2B version of eBay, but what it lacked was a physical warehouse and the ability to buy stock up front," said Barr.
From that, Xcess Trading was created, with Barr taking a £5,000 loan from her mother to fund the new business. She started the company on her own, and until this day is the sole shareholder.
The company was launched with the purpose of dealing with excess stock in the UK, of which Barr recalls there was a huge amount when the firm launched.
"The reason for the name Xcess when we started the business was because we were originally dealing purely with overstock. When I started the company, there was a lot in the UK. All the big brands, such as Phillips, Nikon and Sony, were overproducing stock to hit numbers."
Xcess Trading works with most of the UK's telcos, a range of both bricks-and-mortar and online retailers, and the B2B industry.
The company initially focused on buying brand new electronics stock before turning towards buying 28-day customer returns of laptops and computing devices from retailers in 2015.
She said that over the past five or six years, those returns tended to be higher-value assets such as laptops, smartphones and tablets, whereas the company sticks to excess stock of headphones, speakers, fitness products and TVs.
"Anything that has a material value is of interest to us. Especially in electronics, we're seeing new products launched every 12 months by the same vendor and even sooner. So just because a product is out of date in the UK or to one business doesn't mean that's the case in another market or to another business."
Business development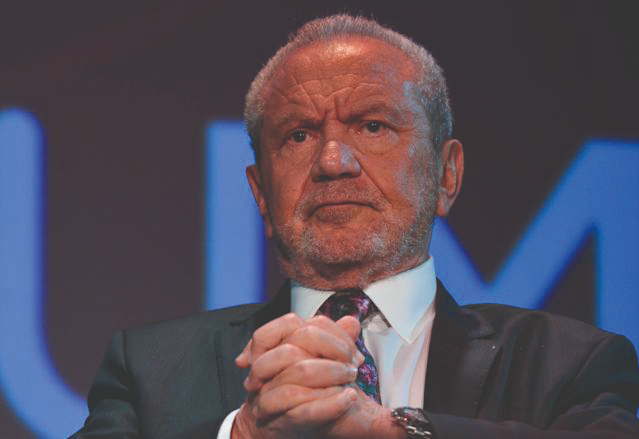 Unsurprisingly, the time that Barr spent on The Apprentice back in 2009 has played a key role in her own business development.
"It was definitely the hardest experience I've ever done in my life," she says. "You're living away from home for three months. It's a really weird dynamic, because you're working with people that you're competing with and even living with."
At the time, Barr was only 24 years old, appearing as one of 15 candidates that saw off 36,000 applicants for the chance to land a £100,000 job with Lord Sugar.
She decided to apply for the show while watching the previous season with her friends, who helped encourage her to sign up.
Barr recalls the early-morning wake-up calls, quite often before 5am, with the house rushing to get ready and get on with their tasks, ranging from creating soap to coming up with gym equipment.
Barr even jokes that she slept for the best part of two weeks after the process was wrapped up, such was the intensity of the challenge.
"I got a telling-off on a regular basis from Lord Sugar," she says. "You think at the age of 24 you know everything, but getting a tearing-down from someone who is worth over a billion pounds is quite something.
"But I'm really proud to be associated with that programme and the people I worked with."
As for Lord Sugar, she's still in touch with the business magnate. But arguably her biggest motivation came from Nick Hewer, who at the time was one of Lord Sugar's trusted advisors on the show.
"I saw Nick a couple of years after our time on The Apprentice and he said to me that if I didn't set up a business, he'd be very disappointed in me," says Barr.
Disruptive' model
Barr soon did just that – and she believes that what she and her team at Xcess Trading now have could be "disruptive" in the mobile industry.
Through the use of its internally built systems, Barr believes the company could change how trading is done.
"A lot of people in trading don't want the trading world to change, as it's quite comfortable for them. What we're looking to do with Xcess Trading is a little bit disruptive because, ultimately, with a disruptive technology platform there are cost savings."
The team is currently only 14 strong, with the company keen to remain a tight-knit group, says Barr.
"It's a small team, but in terms of the efficiencies we've created, it means a lot of the admin work is done through our technical system," she says. "In other corporates, you tend to find that they'll spend money on people to do this instead. I think even as we grow, I can't see the team expanding beyond 20 people."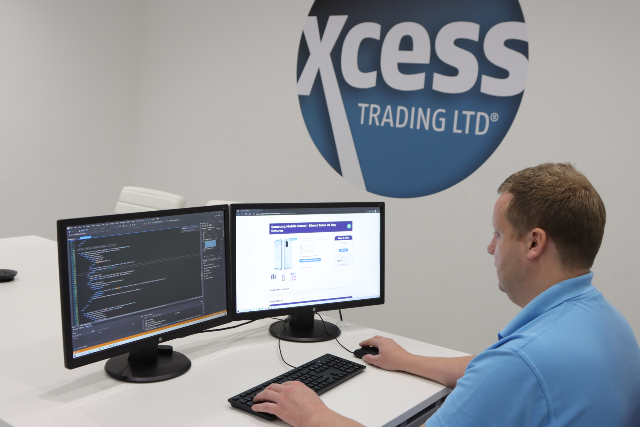 Grading stock
Frape, who has previously worked for distributors Data Select and Kondor, believes the company is different to other trading firms because of its involvement in grading stock.
Frape said: "We're different to other trading companies. When Debra started the business, it was just trading and dealing with overstock, but we've since bought the refurbishment centre in 2017, which Ben was involved in.
"Also, because I come from a distribution background, I can specialise in how we work with distributors. We get the stock in and send it to our customers as and when they need it."
Barr says the company stands out because of it where it sources stock from.
"I think the biggest USP for us is that we only take stock from authentic sources. It has to be from a brand, distributor, retailer, telco or MVNO. Otherwise we wouldn't take the stock, so we can guarantee it's always UK inventory."
A key factor for the company is its location in the country, with all three of its warehouses located in Stafford.
"It's actually a really good link for us, as it is on the M6 corridor, and it connects to most big distribution centres around the north in Yorkshire, Bolton, Manchester and Crewe, as well as the Midlands," says Barr.
The company initially started off with one processing centre, where a large amount of its laptops and other stock are kept.
Later, Xcess Trading acquired a second warehouse in 2019 that provided more office and warehouse space, before adding another 'football-pitch-sized' warehouse behind this unit.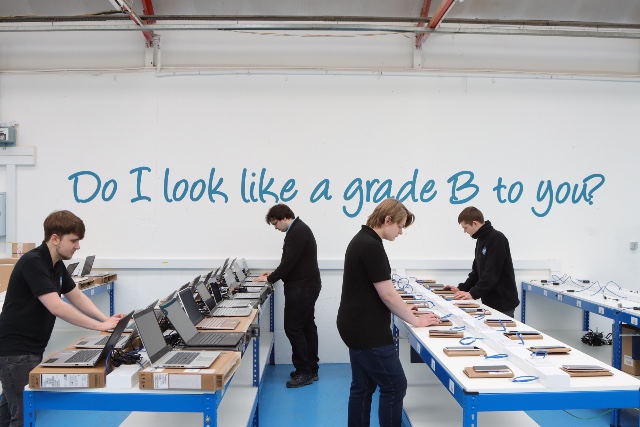 New life
As mentioned already, Xcess Trading didn't always deal with refurbished mobile products.
And while the firm dealt with smartphones pre-2017, the company increased its focus on this that year after acquiring computer and smartphone refurbishment company New Life Technology.
This acquisition has allowed the company to take its refurbished smartphone offering further, although the company doesn't actually refurbish the phones in-house.
The firm does, however, always grade stock as and when it arrives in its warehouses, with functionality tested through Blackbelt and the products data-wiped through Checkmend before being graded and resold.
"We were dealing with mobile phones pre-2017 and they were coming as graded by the telcos with A,B or C," says Barr. "When we bought New Life that Ben was involved with, we got more heavily involved with the testing of these products."
The company works with big name brands such as Apple and Samsung, and uses genuine OEM parts, which Barr says helps Xcess Trading to stand out from the crowd.
"The majority of our stock that comes through to us – around 95 per cent of the stock – doesn't need to be refurbished," she says. "It's literally graded returns, and if any of the stock that we process on behalf of our telcos and MVNOs is under warranty, then we work with Samsung- or Apple-approved repair centres for it to be repaired."
Only a small amount of phones that Xcess receives therefore need to be repaired by being sent off to repair centres and put under a new warranty.
That said, Barr and the team has one gripe that many in the mobile industry seem to share around the grading of refurbished handsets.
"There needs to be an industry standard created around this grading so there's more transparency," she says. "The thing about this market is that one man's grade A is another's grade B."
The demand for refurbished products has, meanwhile, probably never been as popular, with more retailers keen to get involved.
"I've noticed retailers are now selling refurbished products on their websites that wouldn't have done so before," says Barr. "Only a few years ago these companies would only have been interested in selling new stock, but have now realised they can sell 'like new' products to consumers too."
Turnover
In the past year, there has been both Brexit and a global pandemic to contend with for businesses across the country.
But in spite of that, Xcess Trading reported turnover of £11.7 million for the financial year to the end of March.
The figure was slightly down on the £13.2 million the previous year, but this was not too unexpected due to the pandemic.
During this period, business hasn't stopped for Xcess Trading, with no staff furloughed and operations remaining open during the numerous lockdowns.
"We were really lucky that we actually managed to stay open during all three lockdowns," says Barr.
"Laptop sales were at an all-time high globally. What this meant for us is that a lot of laptops were returned, which made it a bumper year for us for processing those."
Smartphone sales remained steady throughout the year, while the worsening chipset crisis is actually playing into the hands of Xcess Trading's refurbished business, adds Barr.
"The chipset shortages are actually forcing people to buy refurbished products, as the amount of new stock such as smartphones and even laptops isn't as high due to the chipset crisis," she says.
And though there have been some negative impacts from the pandemic, but for the team at Xcess Trading that has been more about the lack of social interaction in the form of meetings and events.
"People miss seeing people and the interaction that this brings," says Barr. "One thing I've noticed is that seeing people in an office environment can be more productive as people share information very quickly in a verbal way, whereas if you split people apart and everything is done over text or email, it's just not the same.
"There's almost been a death by Zoom and the overkill this is bringing to people. When you work remotely, you don't feel as much part of the team compared to when we're up in Stafford working together."
Barr is also confident that Brexit will have little negative impact on the business. "We're so heavily focused on the UK that Brexit hasn't had any impact on us," she says.
And, in fact, she actually sees Brexit playing into the hands of traders in the UK.
"I feel that with what is happening with currency fluctuations, traders are going to buy from each other in the UK. By doing this, you can also buy something and have it the next day," says Barr.
"I think traders in the UK are looking more than they ever have at buying from each other."
Female-powered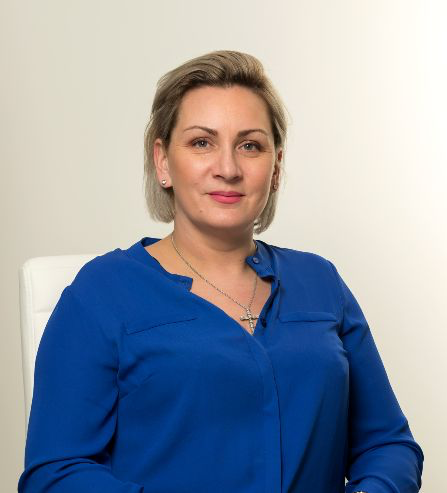 During our conversation, it has, of course, not gone unnoticed that two of the firm's prominent figures are women – offering a refreshing change in an often male-dominated industry.
Both Barr and Frape have plenty to offer, having built up reputations in the industry. In Barr's case, that was through her job at Stockshifters.com, while Frape has worked in distribution for Data Select and Kondor, where she was head of trade.
"Quite often, women are underestimated," says Frape, who joined Xcess in 2019. "I have been at times during my career and that's not necessarily a bad thing, as women can provide a personable touch."
Barr also feels she has had to prove herself in this industry. "In the early days of setting up the business as a 26-year-old, I was able to learn a lot when entering this industry.
"You can see it puts people's noses out of joint if they get beaten, and even more so if they get beaten by a women – but they couldn't lose to a fairer one if they tried," jokes Barr.
And although both agree that the industry is still predominantly male-led, they're seeing more representation from women.
"Me and Nina mirror what's going on at the front of logistics," says Barr. "There are more female buyers, female directors and female operations directors than there have ever been. There's definitely more signs of women coming into this industry."
Next goal
As for the future, Barr says Xcess Trading's next big goal is to launch its new trade site, which she hopes will allow the company to make more profit.
The launch is set to mark the firm's 10-year anniversary, with the new site due to land in September.
The site, known as Xcess Trade, will enable customers to have a more interactive experience when purchasing stock through product images and videos of differently graded devices, with accompanying information about their Blackbelt and Checkmend certification. This is something Barr says is unique in the refurbished market.
"On our website, we will have pictures and videos of our phones so our customers can see exactly what they are going to get," says Barr. "We're trying to pioneer this, as we think this is what all refurbished players should be doing. It's hoped that this will help to set an industry standard for grading."
And looking even further down the line, Barr says Xcess is open to the possibility of a merger or acquisition, while the firm hopes to continue building awareness in the mobile space.
"We are open to a merger or acquisition, but it will need to be exciting and allow us to make ourselves bigger and better," she says.
"With the technology we've got at our disposal, we believe it's bigger than just us – it's scalable."