The popularity of refurbished phones has surged, but there is plenty of room to keep on going, says Matt Kennedy, chief commerce officer at giffgaff
In the last six years, nothing has quite seen a popularity boom like the refurbished phone. Once seen as old, substandard hand-me-downs, refurbished devices are now sustainable, affordable and quality products. Crucially, therefore, they now present a viable option for customers.
For those of us looking to create a more sustainable telco industry, this is music to our ears. The constant cycle of always buying new has consequences. A recent KPMG report found that e-waste from devices was the second-biggest factor in our industry's footprint. That has to change.
In a recently commissioned giffgaff study, we learnt that 46 per cent of UK consumers plan to reduce or stop spending on new phones in 2022. This is in line with our data showing double-digit growth in refurbished phone sales between 2019- 20 and 2020-21.
But we need to keep going. Research also shows that 60 per cent of the UK would buy a refurbished phone once their current one needs replacing. That is progress, but we need to tempt the other 40 per cent to help fully unlock the potential of the refurbished market. Here's how.
Tackle perceptions
Perception is one of the biggest roadblocks to the refurbished market reaching new audiences. Outdated impressions that refurbished phones are the same as 'used' models still persist, while concerns over quality are reflected in countless 'refurbished phone guides' and 'myth-busting' about the devices. So how can we get past this?
As telcos bring the refurbished market to more people through word of mouth and campaigns, more will become aware of these products. Once that is achieved, companies need to follow up by offering great-quality refurbished phones that stand up against new devices as a viable choice.
Clear grading systems can help consumers understand what they're purchasing. In addition, warranty systems that mirror those of new phones can provide security, while guarantees on battery life can ensure there is no notable difference between a refurbished and new model.
Word-of-mouth marketing shouldn't be underestimated and comes through a commitment to consistent value. As an industry, delivering on this promise means a step forward for the refurbished market.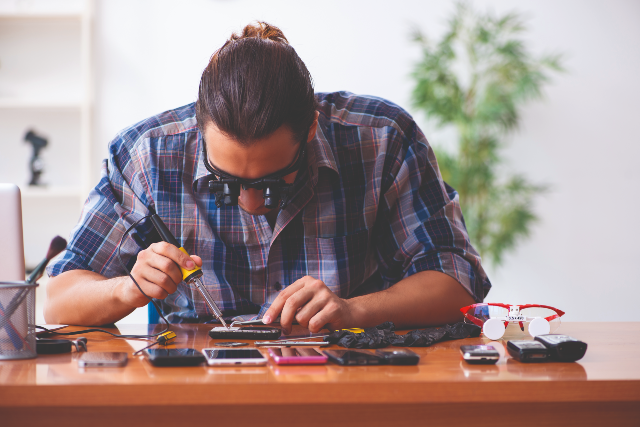 Consumer-led approach
It's important for us to listen to our consumers. But in some cases, it isn't just a case of listening – being led by your customers can have advantages too.
Back in 2016, when giffgaff entered the then-lonely refurbished space, we did so because our members wanted us to. But we did it differently, with a focus on transparency so that consumers knew exactly what they were purchasing. Transparent grading of device quality went against what was on offer, and we carved out a space for this in the market.
We could see there was a significant upward trend in the second-hand market, driven by consumers looking for affordable handsets and sustainability being more top of mind. From here, the decision was easy. We were able to continue providing value to our members, while further aligning ourselves with our aim to provide great value with less of an impact on the planet.
So how can this help going forward? Our members often have some of the best, most innovative ideas out there, and any company would be foolish to ignore that.
Wider consumer movements have driven improvements in right-to-repair legislation and led to a wider awareness on the importance of recycling to combat e-waste. Consumers are clear about wanting more affordable and sustainable options in their lives, and refurbished phones can form one of these.
But the journey isn't easy and doesn't happen in the blink of an eye. Ultimately, it's up to the telco industry to answer that call.
Sustainability and finance 
Now, more than ever, consumers are focusing on the financial implications of each decision due to the rising cost of living. Adjacent to this, consumers are also more environmentally conscious than ever. These two factors are often seen as contradictory, but this isn't the case.
If telcos want to help their customers live their values, unlocking the refurbished-phone market is a great option. More environmentally sustainable and economically affordable than their new counterparts, this will allow customers to still get the device they want without the same impact on the planet or their pockets.
For telecoms companies, this looks like a wider commitment to empowering consumers to make sustainable decisions. For instance, recent giffgaff research revealed that people could save an average of £100 by recycling their old phone. By encouraging people to do this, we're encouraging them to reap the benefits of the refurbished space and the circular economy.
Thanks to the work of telco leaders, the refurbished market has come a long way since 2016. To go further, it needs this drive and dedication to be matched across the industry.
That means the whole industry needs to work together to build the reputation of refurbished phones, unlock the full power of the market by listening to consumers, and help customers realise the financial and sustainability benefits of opting for refurbished rather than new.
Matt Kennedy is chief commerce officer at MVNO giffgaff