The analyst firm forecasts 5G connections to hit 1.2bn by the end of the year
5G connections are on course to exceed one billion this year, according to analyst firm CCS Insight.
CCS Insight predicts that 5G connections will hit 1.2 billion by the end of this year, despite the challenging economic climate.
This figure will see the number almost double from last year, while a third of worldwide connections in 2026 are forecast to be 5G at 4.5 billion.
"Despite 5G's foundational years being clouded by the Covid-19 pandemic and the problems it created, the market is in a stronger position as we enter the second half of 2022″, said CCS Insight senior analyst James Manning-Smith.
"The world still faces a bleak macroeconomic and geopolitical outlook in 2022, coupled with supply chain difficulties. But the transition of mobile subscribers to 5G networks is set to make good progress, with 5G connections forecast to nearly double this year to 1.2 billion."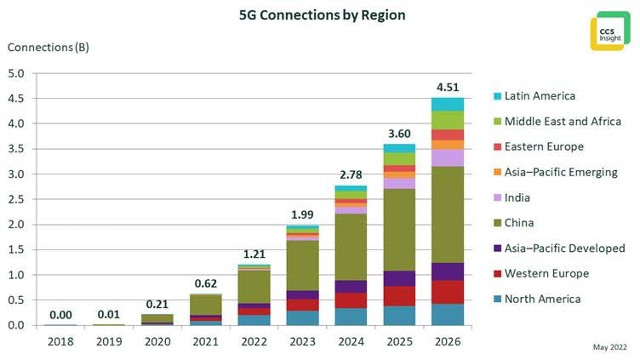 Exceeding expectations 
5G adoption has exceeded CCS Insight's initial predictions, with the analysts predicting connections to reach one billion by the end of 2023, back in 2018.
Almost half (44 per cent) of the 681m smartphones sold this year are expected to come with 5G connectivity, adds Manning-Smith.
"A strong base of 5G-ready mobile phones is developing," said Manning-Smith, who says that 5G is being prioritised, amid a challenging time for vendors and chipset manufacturers.
The connectivity will become mature in North America and Western Europe by 2026, however its delayed transition in markets including India, the Middle East and Africa will remain evident.
As for 5G fixed wireless connections, CCS Insight predicts this to reach seven million this year, up 160 per cent.