The impact of the Ukrainian and Russian conflict had a significant impact, according to Canalys
Smartphone shipments fell 10 per cent year on year in Europe during the first quarter of 2022.
The decline was attributed to severe declines in Russia and Ukraine, due to the ongoing conflict, with shipments falling 31pc and 51pc respectively.
In total, 41.7 million units were shipped in the region, with Samsung leading the way with 35 per cent of the market share. Although shipments for Samsung were down nine per cent YoY.
Apple was the second biggest vendor during the quarter – driven mainly by the iPhone 13 series – with 21 per cent share.
Xiaomi was third overall with 20 per cent, followed by Realme (5pc) and Oppo (4pc).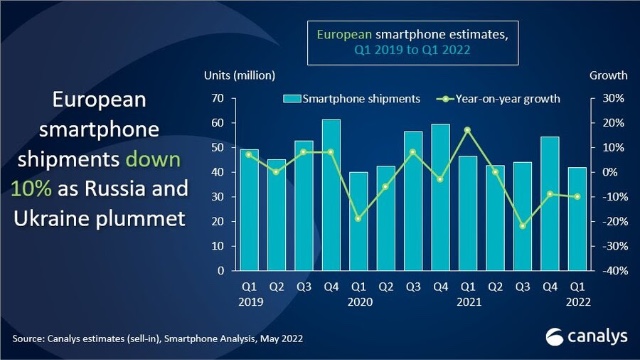 "Most of the decline in Europe was due to Russia and Ukraine being hit hard. Shipments in the countries fell 31% and 51% respectively compared with Q1 2021," said Canalys research analyst Runar Bjørhovde.
"Shipments in the rest of Europe only declined 3.5% year on year, showing that demand remains intact. But the ongoing war has driven inflation to a record level and consumer confidence is falling."
Bjørhovde says the smartphone market will face its real test in the next two quarters "when the economic impact of the war truly starts to be felt".