Apple has faced pressure in recent months to be open with regards with to access for repairs
Apple's decision to provide more access to its parts, tools and manuals for repairing iPhones has been widely welcomed by those in the mobile industry.
This follows the vendor unveiling its Self Service Repair initiative on November 17, allowing customers the chance to buy genuine Apple parts and tools to repair phones themselves.
The move comes after intense pressure on Apple in recent months from the 'right to repair' movement, which has pushed for laws against repair restrictions such as limited availability of parts to enable consumers to more easily fix their own devices.
The service will launch early next year in the US, with Apple confirming that it will expand to other countries such as the UK at a later date.
More than 200 individual parts and tools will be available for consumers to carry out repairs, with the first phase focusing on the iPhone 12 and 13 devices.
Josh Hannan, MD of refurbished smartphone seller Ultimo Electronics, has hailed the announcement as a "pivotal" moment for the industry, even though he expects that most consumers will still choose to have their repairs carried out by professionals.
"I think this is a pivotal moment for the industry, in that consumers will now be able to access original Apple parts in a way that has never been possible before," he says.
"I think a large proportion of consumers will still want to have someone else perform those repairs, however, so I don't see it completely revolutionising the repair side of market as we know it currently, other than the improvements in access to parts."
IDC research manager Marta Pinto says the move is a step forward for Apple and is good for consumers.
"With the new repair services, consumers will have easier access to official parts and will be able to keep the devices running for longer," she says. "The unofficial second-hand market will continue to exist, since devices getting to the pre-owned segment will be in better condition and with official parts."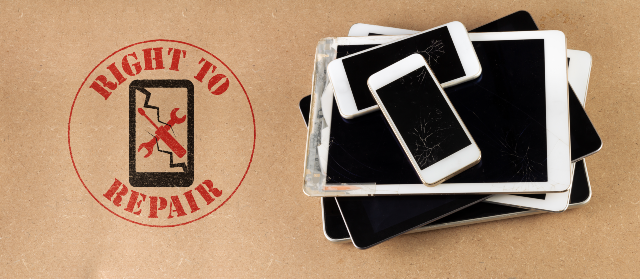 Pressure
Mobio Distribution founder and director Josh Harrison agrees that the move is a good thing overall for the industry, but adds that he thinks Apple has felt the pressure from the 'right to repair' movement.
"It's a positive step in the right direction and is a move that allows more people to access Apple parts in different ways that are truly original parts," says Harrison.
"I think it's an indicator of Apple feeling the pressure a little bit from the right to repair movement, and the whole climate change discussion has been ramping up in recent weeks."
This is a view that is shared by Canalys principal analyst Ben Stanton.
"On the strategy side, this move was clearly catalysed by political pressures around right to repair," he says. But I am actually surprised it has taken Apple so long to support self-repair."
Stanton adds that the move will give Apple greater control in the repair market.
"Its ethos as a company is to own everything," he says. "And famously, it wants to own the maintenance process for those devices too.
"It has been clearly losing this battle with third-party repair shops and components for a long time.
"So its support for self-repair with official parts makes sense, in the context that it gives Apple more control."
Questions
Meanwhile Counterpoint Research associate director and Europe research lead Jan Stryjak welcomes the move but says Apple will face plenty of questions.
"This announcement is a big win for Right to Repair, although there are still some questions," said Stryjak.
"For instance, how easy will it be for people without electronics experience to repair their own devices? How easy/quick will it be to get the parts and tools required, and how much will they cost?"