Consumers also continue to remain brand loyal when choosing new handsets
A new consumer study carried out by analyst firm CCS Insight has highlighted the market for trade-in and refurbished phones has continued to increase.
The survey, which is CCS Insight's fourth annual study, polled 1,000 mobile phone owners aged 16 and over found that the amount of people either selling or part-exchanging a used mobile phone has increased.
In 2019 the same amount of respondents were asked 'have you ever sold or part-exchanged a used mobile phone?', to which the response 'no' accounted for 63 per cent. This number dropped to 54 per cent last year.
The study  also found that people saying 'yes' to the question has grown in every other category in relation to who they're selling the used mobile to.
CCS Insight director of consumer and connectivity Kester Mann said: "The survey highlights significant changes how UK consumers buy mobile devices and services.
"The landscape is being redrawn by multiple factors, including device trade-in, a burgeoning secondary phone market, the trend to online buying, new distribution channels, environmental considerations and lengthening replacement cycles. New and existing suppliers need to respond to these changes to stay ahead of the competition."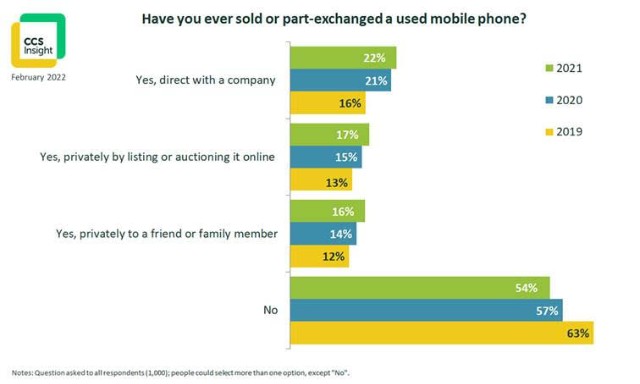 Loyalty
The study further examines consumer buying patterns, in particular around brand loyalty.
It found that nearly two-thirds of people said their brand of phone is the same as their previous one, including almost 80 per cent of iPhone owners.
And when deciding to buy a new phone, nearly half don't consider buying other brands.
Unsurprisingly the survey also revealed that the pandemic led to more than half of respondents (52 per cent) buying their phones online last year, compared to 45pc in 2020 and 41pc in 2019. Only 37pc said their current phone was bought in a shop.