With recovery expected next year as component shortages ease 
Sales of mobile phones are expected to remain well below pre-pandemic levels this year, before the market recovers next year.
That is according to data from analyst firm CCS Insight, with 1.67 billion units expected to ship worldwide this year.
This number is up six per cent from last year, but is eight per cent down on 2019, before the Covid-19 pandemic.
The weak recovery is down to the factors, including a global macroeconomic weakness that stifles demand, along with a worldwide shortage of components including chipsets.
"The current shortage of semiconductors is a direct consequence of extraordinary global events that have upended the entire supply chain for electronic devices", says CCS Insight senior director of research for Americas business Wayne Lam.
These shortages have impacted a range of technology products, with demand in the past year for PCs, servers, TVs and tablets growing as people flock to a more digital lifestyle to stay connected.
And Lam expects that the shortages will harm the market and any significant growth this year.
"We believe phone-makers are prioritising premium smartphones that deliver higher margins over cheaper devices, hindering markets that depend on more-affordable products."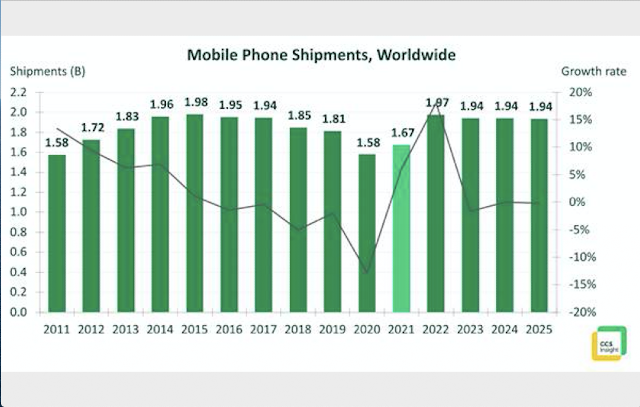 Recovery next year
However CCS Insight expect a much brighter 2022 with component shortages to be largely overcome, with shipments of mobile phones to hit closer to two billion.
CCS Insight vice president of forecasting Marina Koytcheva added "Pent-up demand will be unleashed, and we expect suppliers will be able to satisfy this hunger, leading to a significant rise in sales of mobile phones.
"Our projections are for 1.97 billion phones to be sold in 2022, tantalizingly close the 2 billion mark the industry was aiming at a few years ago."
The analyst firm also expects 5G technology to continue to grow at a good pace, with one in three handsets sold this year to be 5G-enabled.
Demand for these 5G products will be driven by mobile operators, as CCS Insight predicts by 2025 that close to three-quarters of mobile phones sold globally will support 5G network technology.