5G base station installed on Mount Everest
In what could have been dismissed as THE April Fool spoof of 2020, China Mobile and Huawei have announced they are installing a 5G base station on Mount Everest.
So there will soon be no excuse whatsoever for not posting a 4K Ultra HD video on Instagram when you next stand on top of the world's highest mountain. It is being connected to a Gigabit optical fibre network enabling China Mobile to run its dual Gigabit network on the planet's highest spot.
That sound you hear is Sir Edmund Hillary spinning.
The base station will be 6500 metres high and is claimed to enable download speed s of more than 1.66 GB, with an upload speed topping 215 Mbps. You'll need a fast upload speed. That queue of climbers behind you means you can only stay on the summit for a few minutes. Do not reply on Mobile News to conduct a field test to check these speed claims.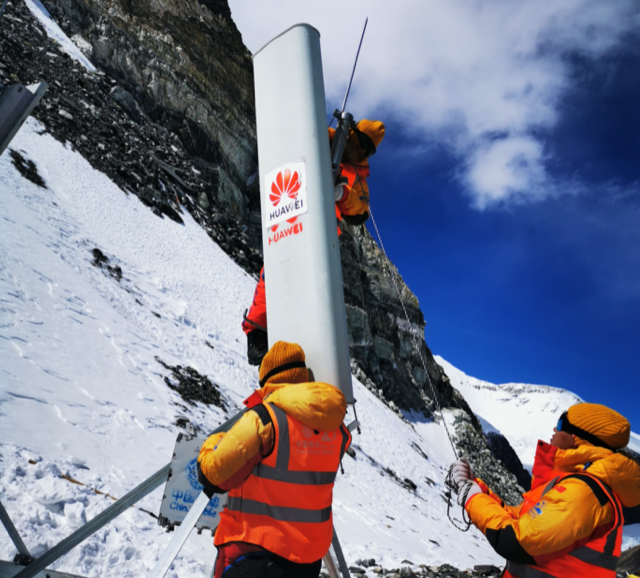 Base camp
Everest base camp is at 5,300 metres and will get 5G at a speed of 1.43Gbps. Huawei's press release says this makes it "possible even for families and businesses to enjoy super-fast internet access at such high altitudes" (although Mobile News is not fully convinced many families and businesses plan to holiday or re-locate to Everest base camp).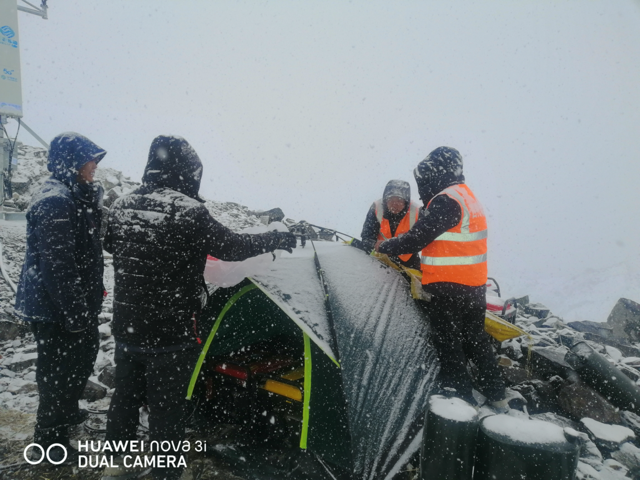 Maintenance and optimization will be done by a dozen network specialists camped full time at altitudes of 5,300m and above "to ensure smooth network operations".
For the technical among you, the Huawei's Massive MIMO has "highly flexible three-dimensional narrow beams" said to work particularly well vertically on Mount Everest. Huawei's 5G AAU is highly integrated and compact making it easy for deployment and installation.
"It's particularly ideal for extreme environments such as Mount Everest. In this project, a network in the "stand-alone plus non-stand alone" (SA+NSA) mode connects five 5G base stations. Meanwhile, the 5G fast and huge-capacity connectivity is achieved by Huawei's Massive MIMO technology, supporting lightning speed and large bandwidth. Huawei's Massive MIMO is highly reliable and provides excellent coverage. With its highly flexible three-dimensional narrow beams, the technology works particularly well vertically on Mount Everest. At an altitude of 5,300 metres, the 5G download speed exceeds 1.66 Gbps, with an upload speed topping 215 Mbps.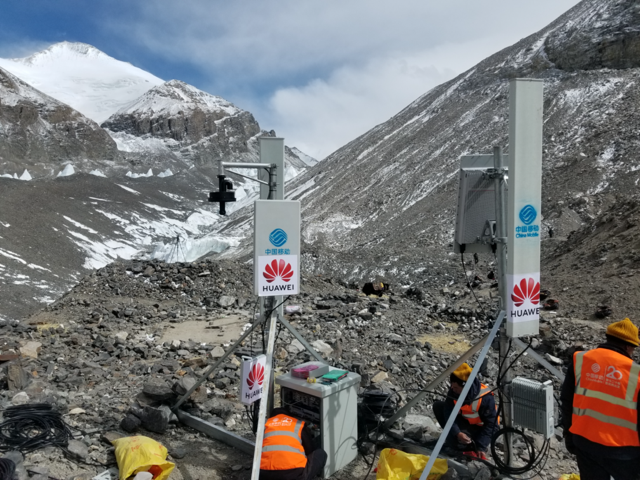 "Meanwhile, high quality and reliable networks are guaranteed by Huawei's Intelligent OptiX Network solutions, with the data-thirsty transfer of high-res videos, VR live broadcasts, supported by enterprise gateways with 1Gbps upstream/downstream connections. With its HoloSens intelligent video surveillance system, Huawei ensures streaming quality allowing optimisation and fault locating with just one click. This keeps the network stable at 6,500 metres, providing connectivity at the summit".