After closing their doors for three months, the operators have reopened stores but with big changes
With operators coming out of lockdown, Mobile News quizzed the network retail chiefs on the trials, tribulations and challenges they faced getting the show back on the road.
How did you keep the staff occupied?
Jon Shaw, head of consumer sales channels, Vodafone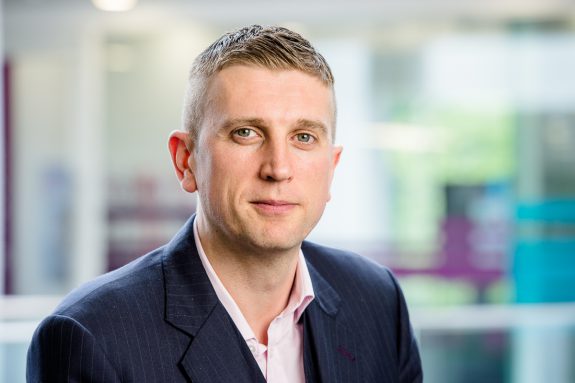 By the time we were told to go into lockdown, we had a plan for the majority of our retail workforce.  All the teams successfully migrated onto webchat from home. They took part in chats that also involved online sales, creating a much larger sales webchat than before.
We've also perfected a few other things, such as that customers can now have webchats with in-store tech teams. We've also reimagined our sales channels: rather than thinking 'I have a retail workforce and a telesales workforce', we now have a more ubiquitous team, so if demand falls in one channel we can direct it elsewhere.
No one at Vodafone has been furloughed or been on less than full pay. Their bonuses are guaranteed because they're still performing a sales task. This has been well-received by our stores, and our franchise partners as well – with concerns about a decline in retail footfall outweighed by the fact that they can service digital demands and still be rewarded.
Lee Frankham, retail director, EE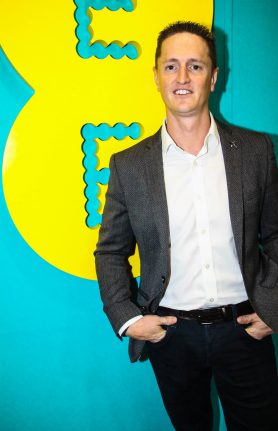 We didn't furlough staff and were able to engage them in other areas of the business – such as handling service calls usually taken in a contact centre in another part of the world.
We also retained a level of store presence as mini contact centres, whereby people were able to book a retail appointment from home and an advisor from a local store would call them to answer their query.
We also enabled more than 1,000 people to work from home with desk phones through outbound sales, and inbound service and webchat.
For others, we've created more than half a million pieces of content to download and learn for training purposes. We also set each manager up with their own Teams account so they can do videoconferencing.
Gareth Turpin, sales director, O2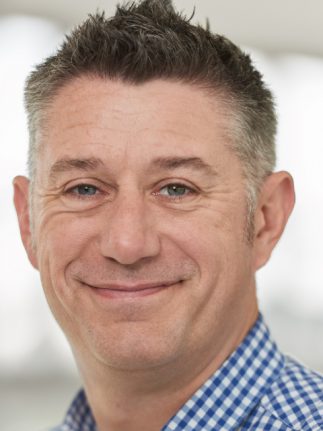 We didn't furlough any teams. We had people supporting social channels, back-office processes, telesales and customer support roles, as well as working across webchat.
We also embarked on a high level of engagement and training activities, and started our planning for store reopening as early as March 24.
For the three main areas – supporting other parts of the business, engagement and reopening – we have 209 processes mapped out in our stores, from the customer side to deliveries, and we re-engineered 154 of them.
Dane Hipkin, director of retail, Three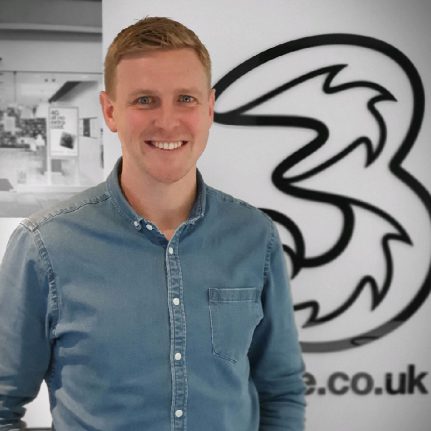 We've got Three Store Now on our website, which allows customers to interact with store staff via online. We only had around 75 stores doing that before closure, but we were initially able to move our retail staff into enabling support via Three Store Now.
We trained another 500 retail staff to handle support via webchat and sent laptops to their homes so they were able to support advanced customer enquiries.
As we started to normalise and understand demand, we looked at the amount of staff we needed. We had some 60 to 70 per cent on furlough while maintaining Three Store Now and webchat support.
Did you ever consider not reopening?
Shaw: We saw from other countries that when any retail outlet reopened, many customers came back. In the UK, a unique factor was also Carphone's recent store closures, giving us an extra opportunity from customers no longer going to those shops. But that also meant we didn't know what demand would be like.
We decided to reopen and see what happened. Then in six to nine months, if we've got a different view on the number of stores we need, we can use data to make that decision.
No one was saying 'Do we shut all the stores?', but rather 'This will clearly change the retail landscape; what do we think will happen?'. The Carphone decision meant w needed to get these stores open because the demand would be there.
Frankham: There was always a plan to reestablish a physical presence. We don't want to reduce our retail estate. If anything, this has shown us how much that customer base relies on a personal and local service – they need face-toface communication.
A lot of customers haven't migrated to other traditional online channels, but have instead been hankering after retail interaction.
We've seen that through virtual appointments and in reopening: they're all adapting to how we've set up the retail estate rather than going through a different channel.
It won't be the same though, and we'll change the retail operating model to handle how customers interact in the retail space. We'll use some of the capabilities we've learned to create a hybrid retail estate for the future, adopting things like virtual appointments as a permanent option.
We've got a fluid approach as to how we use the retail estate, and are going to take some of that learning into the future.
Turpin: With more than 20 million customers, we service all demographics. We have a large number of people using our My O2 service, website and interactive capabilities, and we have people who like to talk on the phone.
But we also have a huge number of people who like to visit our stores. One of our biggest sales messages from online is about click and collect, which you can't do during a lockdown. We also offer customer services such as 'how to' queries in-store. Our thinking was very much about getting the store estate back up and having it in places where customers value it.
We started to get into the stores three weeks before we opened, setting up eight with new layouts and floor markings to test if we could design a store to fit government guidelines. Even in trialling in those eight stores, I had customers saying 'when are you opening? I'll be there' and the demand we've seen showed it was the right decision to reopen.
Hipkin: We saw a strong online uplift when retail presence wasn't there, but we tried to reopen all stores as soon as we safely could. I guess it's a wait-and-see to find out what customer behaviour shows.
Three Store Now does also give retail teams the means to support customers and go through that journey online, so we have tried to bridge the online-offline gap that a fair amount of retailers have been looking at.
It will probably lead to more stores adding that sales journey than we had before. Meanwhile, now that many high streets haven't got Carphone, there is a big opportunity for us to attract some of those customers.
Has footfall met expectations?
Shaw: Our rough guess was that our stores would be 30 to 40 per cent down on footfall, due to simple care issues. We thought there would be fewer SIM-only customers because you can get those deals online, and that you would still see people interested in handsets; it's played out exactly like that.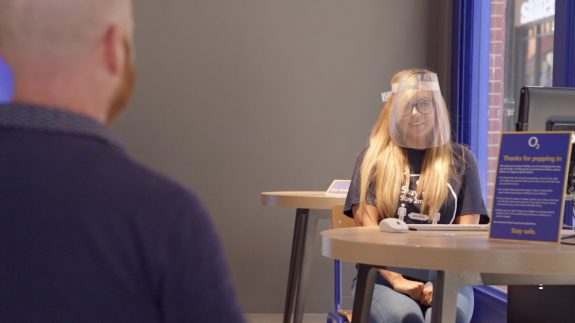 If you're considering buying a handset, you want reassurance that you're getting the best out of it. We're seeing fewer low-level care queries, as customers have learned during Covid how to interact with us digitally and get what they want without having to go to a store.
This is brilliant, because we don't want people to come all the way down for a low-level query that can be solved via our app or on the website.
Demand in terms of people wanting to buy is surprisingly high, with our upgrade business up about 10 per cent in some stores compared with pre-lockdown. Store managers like care footfall being down because it means everyone in the queue wants to buy something. This has helped them a lot to sharpen up the way they concierge.
Our tech teams normally do about 300 to 400 paid tech team appointments every two to three days: we did 300 on the first day.
You'll see a lot more innovation on the tech team front. Coronavirus has made people realise that they are not as familiar with technology as they thought.
Frankham: Our footfall is generally split 50:50 between service and sales, and we're seeing a similar volume of each. It's hard to measure, but I would say it's more positive than I expected and confidence is higher than I thought.
It's also a testament to retail when people just want to come out and have that face-to-face interaction.
Turpin: Elsewhere in the Telefonica world, we saw a fair amount of pent-up demand. Footfall was slightly down, but the conversion rate within that footfall was higher because customers made deliberate journeys.
We thought it might be about 50 per cent of previous volumes, but it has been much higher. People value having conversations about which phone and plan are best for them, and seeing them before they buy. We've seen significant demand and sales at pre-lockdown levels – even beyond in some cases.
It's also a different experience in the store now compared with before lockdown. If you come to the store and there are few customers there, the concierge or assistant store manager will meet you at the door, ask about your requirements and allocate you to someone who can serve you to maintain social distancing.
If the store is busy, we'll take your details and text you in real time so you can come back without queuing outside. That lets us manage queues in a way that customers like.
Hipkin: Footfall has exceeded expectations. We have historic year-on-year trends to look at and pre-Covid traffic. We also had calculations about how many customers we could have in stores.
Our estimations around traffic have been exceeded. The confidence among customers to return to the high street is paying back the preparation that stores have gone to over the last few weeks to ensure safety.
We saw a spike in the fi rst few days of stores opening, but it has still stayed fairly strong over the past few weeks. Most shops use counters to monitor traffi c. The fact that a sales fl oor manager  regularly goes in and out of the store talking to customers has caused some discrepancies, but we're pleased with how it's gone.
We are seeing more targeted visits rather than those by browsers, though I think that will change as people become more comfortable. A large number of existing customers are coming back for an upgrade or advice, but we're also seeing new customers at a good transaction level.
What has been your approach to social distancing?
Shaw: We saw what the food retailers were installing and said 'Whatever the government tells us, do it a little more strictly'. We got PPE and left it to staff whether or not they wore it.
We're sticking to the two-metre rule for colleagues. If colleagues feel safe, they'll come back and if it's that safe, the customers will
be fine. They'll also understand why the rules are there so no one will complain at our stores.
The feedback has been great. A telecoms transaction normally takes 10 to 20 minutes, which means delays are less of a challenge than for those in faster retail.
We will be launching a GDPR-compliant appointment booking system and queue management tools developed in-house, which we're piloting in our Westfield Stratford and White City stores.
We wanted to take the time to create more than just a basic system due to risks around handling and accuracy of customer data, and wanted to avoid sending texts with estimated times.
Frankham: We've researched what others in the sector are doing and have the best set-up of the high-street retailers. Our GreetMe virtual queuing system handles all the additional appointments we have now. The addition of those means we can service vulnerable customers and people who are not willing to come back into the retail space.
Turpin: We looked at government guidance and then related that to the logistics of our stores and what would people want to do in them.
This process led us to look at face masks for back offices and gloves when handling anything, but also plastic visors when serving a customer so people can lip-read if they need facial interaction. We keep the demo devices on display and ask customers to sanitise when they come in the store; the team will  then clean the devices afterwards.
We keep the teams at the same desks. Shift patterns have been changed so people don't need to have lunch breaks, minimising points of interaction. We have created an environment in which our teams were unanimously comfortable coming back to work.
Hipkin: We looked at the high-street stores that were still trading. Our stores in Ireland were a few weeks ahead of us, so it allowed us to better understand what they were doing well.
We have an employee forum, so we spoke to our teams and attained regular feedback to make sure they felt as safe as possible. We also reduced trading hours in that first couple of weeks to account for personal circumstances around travel and some of the changes that people were having to make in coming back to a different working environment.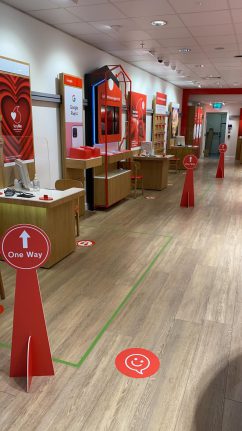 What cost considerations did you have?
Shaw: We just went for it. There was never a thought about what it would cost because we'll work that out throughout the year.
We invested £500,000 in deep-fumigating every store to get everything fully covered with an anti-bacterial layer for six months. We wanted everyone to know how seriously we were taking this. We weren't going to be cutting corners, and we did it for all our franchisees as well.
Frankham: It was never really a consideration of cost – the first consideration was always about making employees feel safe, keeping them engaged with the business and making them feel confident that the business was looking after them. That translates to the customer as well.
We've invested heavily in the necessary equipment and virtual queuing so we're not having people standing outside our stores or hovering in the doorways. Our strategy is about opening in the local area to deliver services to people that live there. If you're in a small town in Wales, you want your store to be able to deliver face-to-face service, so we've been pushing to get as many customer stores open as possible.
Turpin: Whilst cost is always a consideration, it was secondary or even tertiary. It was about creating a safe environment where customers feel comfortable and want to come in.
Our people wear a uniform of O2 denim shirts, jeans and shoes, and we also provide them with white T-shirts that have O2's 'keep
safe' messaging on them. This gave our teams extra clothing they could wear to alternate with their traditional uniform, taking away concern about them having to worry about washing their uniform every night.
Hipkin: We found the majority of measures affordable and necessary to make sure we can transact safely. The key thing was to invite our teams back to work in as safe an environment as possible, and it's the same for our customers as well. There's always a limit, but I wouldn't say that any of the costs came much into our concern at all.
How did you train staff for reopening?
Jon Shaw: We did all the new layouts remotely. We planogrammed every store, the store managers signed off on them and everyone was briefed on the new layouts and dos and don'ts. The operations manual was rethought. Staff had 10 hours of training and had to read the new operations manual, and we had interactive tests and the briefings on top.
Frankham: We had to create a 'retail reboot' training programme to make sure everything was covered. There was a new operating model, customer journey, flows, procedures and layouts. We had a 'go-no-go' call on every single store opening to make sure everything was adhered to from a government and internal policy point of view, so everyone felt safe in going back. We've invested a lot of time in making sure we're fully trained to give confidence to the staff.
Turpin: We worked on training and upskilling staff during the lockdown. We have 209 processes mapped out in our stores and reengineered 154 of them for reopening. We got into the stores three weeks before we opened.
We set up eight with the new layouts and floor markings to test if we could design a store to fit government guidelines.
Hipkin: As soon as we closed, we started looking at regular government guidance and shared best practice with Ireland and other countries we'd been working with.
We knew we needed to understand shop floor space and social distancing in stores, as well as procurement of equipment we'd need in them. In the weeks before reopening, we installed equipment and put in PPE and signage. We produced a learning module that every one of our store staff has gone through as part of their reintroduction.
The week before opening, we brought our teams back into stores to get used to the environment. We also had an operational setup day to make sure we were Covid-secure and could operate under guidelines, as well as that customers could understand new propositions and processes.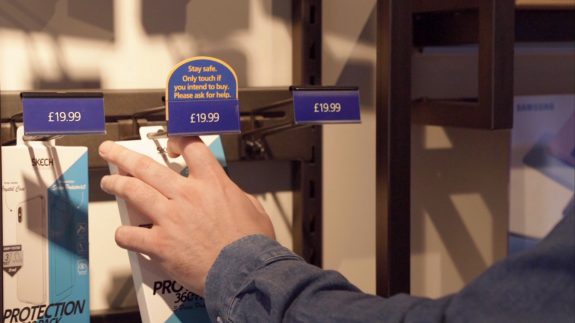 Are you prepared for further lockdowns?
Shaw: When you shut a store quickly, there are tests to go through. You need qualified property people to do things such as clean ventilation pipes to remove the risk of legionnaires' disease
Getting our contractors to the stores in the right sequence was a logistical effort in itself. But we are prepared for lockdowns, and can go through our playbooks more smoothly.
Turpin: We have a plan for having to close locations or regions. We've analysed the close-down process, such as the management of stock and securing of stores. We have a plan that's ready to implement from one store to nationwide, as required. Similarly, we're planning for if we go to one metre and what that means for store layouts.
Hipkin: Through the last three months we've had a plan for a whole host of different eventualities for local or regional lockdowns. We'll follow the government's guidance and we've got protocols in place so we can close stores down fairly quickly. Our staff and customers are at the forefront of making sure stores as safe as can be.