600 guests turn out for the biggest UK channel post-Covoid awards night
At the Mobile News Awards held last night, Samsung was the big winner at a sumptuous black-tie gala dinner and party at the Intercontinental Park Lane packed with 600 mobile industry guests.
Samsung took three trophies (Manufacturer, Online Retailer, and Innovative Product ( Galaxy Z Fold 3).
Double winners were Juice Global (Accessory Manufacturer and Environmental Sustainability), Uplands Mobiles (Reseller Under 50 Employees and Customer Service) and Sky Mobile (Covid Response Initiative and MVNO).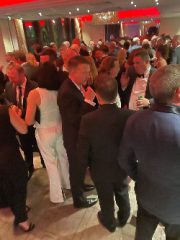 Other winners are:
EE (5G Application)
Satya Tech (Accessories Distributor)
Plan.com (Airtime Partner Portal)
Vivio (B2B Reseller Over 50 Employees)
Virgin Media O2 (Community Care)
BT (Converged Solution BT Halo 3+)
Exertis (Device Distributor)
Bastion Insurance (Gadget & Phone Insurance)
Tango Networks (Innovative Service – Mobile Extend)
Cellhire (IoT Service National Vaccination Programme)
Union Street Technologies (Mobile Billing)
Mazuma (Secondary Market Provider)
iSmash (Service and Repair
Gareth Turpin (Motivator of the Year)
Click HERE for photos of the night