Samsung has used ocean bound plastics and recovered fishing nets to use as components for the new devices and has used 100 per cent recycled paper for the packaging
Samsung has released its highly anticipated Galaxy series which includes smartphones S22, S22+ and S22 Ultra, as well as a new Galaxy Tab 8 series.
The S22 and S22+ provide 3,700mAh and 4,500mAh battery respectively as well as a 12MP ultra-wide camera and 10MP front camera.
The S22 Ultra also possesses a 12MP ultra-wide camera- but has an improved 40MP front camera and 5,000mAh battery.
All smartphones in the series come with nightography features, advanced zoom and the Ultra has a built-in S pen- reminiscent of the Galaxy Note series.
Between February 9 and February 24, UK customers who pre-order the Galaxy S22 series or Galaxy Tab S8 series can claim a 12-month subscription to Disney+.
The Tab 8 series and S22 Ultra will be available across Samsung channels and major retailers in the UK from February 25, with the S22 and S22+ available from March 11. 
Pricing and storage
Galaxy S22+ RRP:
128GB, 8GB RAM – £949
256GB, 8GB RAM – £999
Galaxy S22 RRP:
128GB, 8GB RAM – £769
256GB, 8GB RAM – £819
Galaxy S22 Ultra RRP:
128GB, 8GB RAM – £1149
256GB, 12GB RAM – £1249
512GB, 12GB RAM – £1329
1TB, 12GB RAM – £1499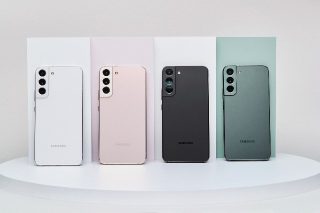 The three tablets in the S8 series range from £649 to £1399 depending on storage, RAM, WiFi or 5g connectivity.
Uswitch.com mobiles expert Ru Bhikha commented: "Samsung has once again delivered what the tech giant is best known for – robust, good-quality handsets with impressive specs and innovative features.
"The improved performance in the range does result in an impact on battery life and Samsung fans will be disappointed to learn that the S22 and S22+ both see a 300mAh downgrade compared with last year's models. 
"The good news is that the S22+ and the Ultra come with up to 45W charging, which should compensate by speeding up recharging. 
"The demand for these three handsets is set to be high, but with global supply chain issues still having an effect on the availability of tech in some countries, it will be important that Samsung does everything it can in the coming weeks to iron out any issues."