Huawei's launch of its Mate 30 Pro last month came at a difficult time for the company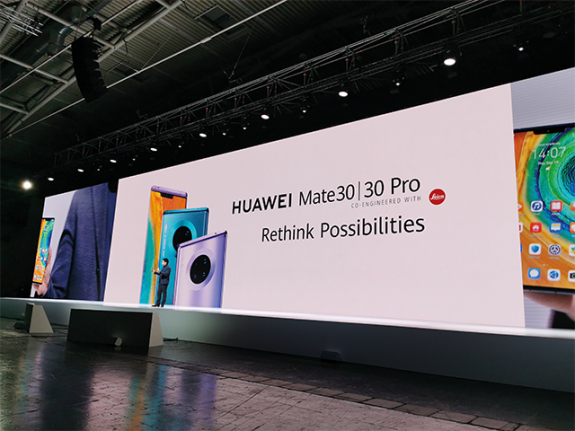 Following Huawei being placed on the Entity List by the US government earlier this year due to security issues, increasing tensions between the US and China have led to Google services being restricted from November 19 and now omitted from the latest Huawei devices.
Being put on the list means that companies need specific approval from the US government to work with businesses in the country, while the future of the relationship between Huawei and Google looks increasingly uncertain.
This did not, however, deter the Chinese manufacturer from showing off its latest release, the Mate 30 Pro, at its recent launch.
The device features an ultra-curved screen design, four rear cameras and a 6.53-inch OLED display, looking like an excellent bit of kit on first viewing. But if you live in the UK, you may never get your hands on one.
The phone launched in China on September 26, but a European and UK release date is yet to be announced amid the uncertainty around Google.
President Trump added fuel to the fire earlier this year by signing the executive order that essentially gave the federal government the power to restrict US businesses from dealing with foreign companies that could be perceived to pose a threat to national security.
The Huawei Mate 30, which has become the first device affected by the order, will have to come to market without key Google services, including Gmail, the Google Play Store and Google Chrome.
These services are essential to most of the European consumer base and will undoubtedly have an impact on Huawei's future, with most customers using Google services as the norm.
Impact
Huawei is currently the second-largest handset vendor in the world, with a year-on-year rise in a shipments of 50.3 per cent and a 19 per cent market share in the first quarter of 2019, according to IDC.
But the latest developments represent a big blow for the vendor and its aspirations to dethrone Samsung as the world's number one.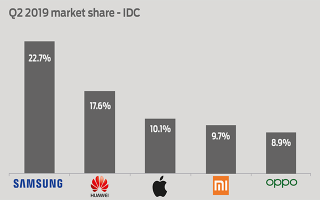 Canalys senior analyst Ben Stanton says that Huawei's launch was, nonetheless, largely a success despite its setback. "It was a business-as-usual launch for Huawei, with very little time spent addressing the Entity List and GMS [Google Management System] issue," he says.
Huawei did well to avoid talking about the move away from Google at the Mate 30 launch, even though it could have pitched its devices as more secure and private than rival devices with inbuilt GMS, says Stanton.
That might have risked distancing itself even more from the web giant. "Instead, its strategy right now is to stay close to Google," he says.
He adds that he thinks Huawei's strategy of not drawing attention to its political situation and focusing on new features such as the screen's 'horizon display' and the improved camera worked in its favour.
Bright Side?
uSwitch head of commercial for broadband and mobiles Ernest Doku believes that the restrictions on Huawei may even actually have some positives.
"I think their devices, and the Mate 30 in particular, have been incredible," says Doku, adding that the developments in the US have only put the company more in the public eye. "If you look at the UK and European performance so far, it's been a big success," he adds.
At the same time, he foresees potential obstacles. "The prevention of core Google services being on the device is a challenging situation for Huawei to find itself in."
He thinks Huawei will find it difficult to market its future products in Europe if the ban isn't lifted – and with no UK or European release date for the Mate 30, how will Huawei overcome its latest setback?
"For Huawei, it's going to be a real marketing puzzle for this device and any other device moving forward," says Doku.
He believes the vendor will promote its devices without drawing too much attention to the lack of Google services, but will ultimately struggle because the features are fundamental to the core experience of smartphone consumers.
CCS Insight chief of research Ben Wood agrees: "It's going to be very challenging for Huawei to sell these products in Europe, despite the fact that it arguably has some of the best hardware features available in flagship devices today."
Wood feels that the absence of the Google Play Store and other well-known apps such as Google Maps, YouTube and Chrome will make the device less appealing to consumers.
Nonetheless, he believes that Huawei will not give up without a fight, with the Chinese company already looking into alternative solutions and access to apps such as Facebook and WhatsApp through its own app store.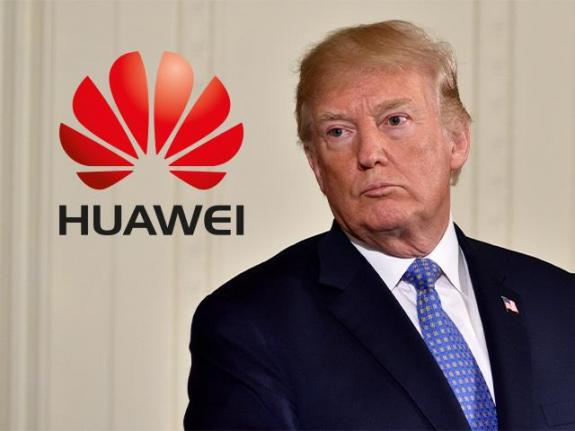 Service Spend
Despite key Google services missing on new Huawei devices for the foreseeable future, the Chinese juggernaut has set aside $1 billion for investment in mobile services.
Huawei has already established its longstanding AppGallery in China and, in light of recent developments, could look to expand its app store into European territory.
Yet the vendor may struggle to find compelling replacements for Google to meet the needs of customers used to the familiarity of the web giant's services if the ban isn't lifted.
Nonetheless, IDC EMEA associate vice president Francisco Jeronimo says he would not be surprised to see Huawei continue with its development of new software.
"Huawei has no other option at the moment but to look at alternatives after the Google ban," he says. "It already has its own app store, so it would make sense for it to extend its own ecosystem and build more relationships with developers and service providers."
Jeronimo adds that Huawei would gain a boost in overcoming the challenge if it can harness assistance from fellow Chinese vendors.
"If all Chinese suppliers come together in support of this – together making up 50 per cent of the smartphone market today – then Huawei will have leverage.
"The challenge is to convince the others to work on this ecosystem with Huawei, and that may ultimately prevent it from going full-throttle with this new operating system. If the ban is not lifted, then we don't expect a bright future for it in Europe."
Doku believes that Huawei will also have to think outside the box to maintain its place amongst the world's leading smartphone companies.
"The Google ban presents a speed bump on its road to becoming number one. Huawei hasn't been as vocal or as bullish about being first since this new development.
"The vendor is going to have to innovate and deliver something exciting and new to the space to remain front of mind for consumers who have been lured away from the original duopoly, but it can be done."
Doku also expects that the company will continue to deliver strong devices moving forward.
5G Effect
The Google ban affects Huawei's plans to implement 5G in its next generation of devices, with many key European markets launching the technology this year.
Ovum's principal analyst Daniel Gleeson says: "In terms of 5G, this ban has come at the absolute worst time for Huawei.
"It was very much primed to be a key part for many operators worldwide. Instead, that rug has been pulled from under it and we've seen OnePlus, Xioami and other Chinese brands get partnerships with European operators. Huawei is going to start losing a lot of share to smaller Chinese companies because of that."
He told Mobile News that Huawei's difficulties could present near-term opportunities for rivals such as Oppo, OnePlus, and Xiaomi to increase their share in Western European markets.
Operators have partnered with other Chinese vendors such as OnePlus for 5G
There is no news about when the ban will be lifted, but Jeronimo remains optimistic that a deal to remove the sanction can be agreed soon.
"Huawei is one of the biggest players in the world and has been unfortunate to get caught up in the trade war between China and the US," he says. "If there isn't an agreement, then the risk of a third alternative to Google is very high. Google – an American company – will not be able to control the smartphone market.
That power will shift to China," he says. And with a US election due in a year's time, Jeronimo thinks the last thing that President Trump would want to do is aggravate tensions with China.
"I'm not sure if it is a good idea to fight China over the next 12 months, as the country controls a lot of American debt and that fight could have a big impact on American voting," he says.
Asia Boost
Despite the big challenges it faces, Huawei should continue to have no problem operating in Asia, where it has gained huge success.
In the second quarter of this year, for example, 63.5 per cent of the vendor's 58.7 million smartphone shipments were to China.
However, Asian markets alone won't be enough. "Should Huawei's situation not improve by the end of the year, its major competitors will start to weaponise this in their marketing activity," says Stanton.
"It will be increasingly hard for Huawei to convince major channels in Europe, such as operators, to continue to range the same breadth of devices."