The repairs market has grown in recent years, but how have firms coped with the pandemic and parts shortages?
A segment of the mobile industry that has seen significant growth in recent years is the repair market.
With many people holding onto their phones for longer or choosing a refurbished handset to save on increasingly high costs for brand new devices, this has played into the hands of mobile repair firms.
The global refurbished market saw healthy growth in the second half of last year, according to Counterpoint Research – though more modest growth of four per cent year-on-year over the whole of 2020 due to the COVID-19 pandemic. A higher increase is expected in 2021.
I've seen how big a market this is first- hand on LinkedIn, where I regularly see representatives of repair firms advertising their inventory of parts and services.
But like many other areas of the tech industry, this sector has experienced issues born out of the pandemic.
In general, industry players report that they have been able to ride the storm, but the interplay of COVID-19 with a wider parts shortage caused by other factors is having an ongoing impact.
Yet this level of disruption appears to differ for a number of businesses that Mobile News spoke with.
Lasting impact
The impact on the industry was already noticeable when the pandemic began to spread worldwide last March and has continued, says Mobio Distribution founder and director Josh Harrison.
Some of the key effects have been on the availability and cost of parts, he says.
"The pandemic has impacted our access to obtaining parts. Initially, at the beginning of the pandemic, access to them was almost completely gone," says Harrison.
"As China locked down and closed all the factories, any stock that was available jumped in price and it became a bit of a rush to access whatever had been manufactured." And Harrison observes that these issues are still prominent now. "Prices have never reset down to what they were before the pandemic," he says. "We're finding that we're still paying between 10 to 30 per cent more for all of these products."
He adds that certain parts have been going out of stock a lot quicker than usual, including screens for popular iPhones.
Harrison says, however, that Mobio has been able to navigate the pandemic to get stock in regularly, even if it's not necessarily from the usual suppliers.
"I'd say our business has been fine overall, as we've been active and able to keep in contact with our sources in China," he says. "We've made sure we're getting stock from somewhere, even if it's not from our main source. We've been able to pull in stock about 95 per cent of the time."
But one worry he has had concerns consistency in the quality of parts coming in. "There's been an inconsistency in quality
during the pandemic," he says. "Prior to it, the factories would nearly always be using high-quality components no matter what, but now we're seeing component shortages and this has led to lesser-quality stock from cheaper resources."
Unfazed
Not all businesses say that access to parts has been a significant issue though. iSmash founder Julian Shovlin says he is not particularly fazed by any parts shortages, despite periods in which availability has been low.
"We've had fairly consistent access to parts and haven't struggled to obtain anything in particular," says Shovlin. "We air-freight the bulk of our parts in from China, so whilst rising freight costs have impacted our bottom line, we've not been too heavily affected by supply problems."
The mobile repair shop chain has a number of walk-in locations across the UK and was even able to strike a lucrative deal with British broadcasting and telco giant Sky last October during the COVID chaos.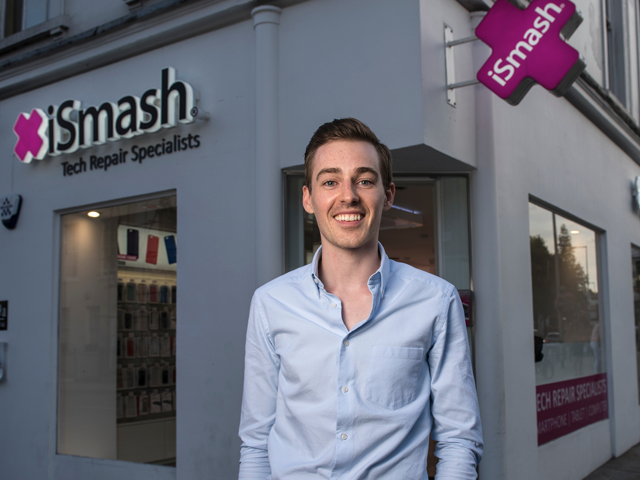 The deal sees iSmash operate its own repair services within selected Sky stores, after Sky entered the high street last year.
After initially opening in one store in Liverpool, iSmash has added other locations this year in Glasgow, Edinburgh, Bristol and Cardiff, with more set to come in the second half of 2021.
"We are working with Sky to see how we can further collaborate," says Shovlin, adding that the business has succeeded so far.
At another repair company, Ultimo Electronics, managing director Josh Hannan also says business has been largely unaffected.
Challenges
But that's not to say it's been totally plain sailing for those two businesses, with access to some Apple parts providing Hannan with a headache.
He says one of the biggest issues has been the reduction in sales value of some iPhones due to the need to replace smashed glass on the back of the phone with glass that doesn't carry a logo.
Hannan cites another challenge in Apple's use of components that are hard to replace with non-Apple parts. This has led to customers opting to have their devices repaired by the vendor itself to avoid any error messages or incompatibility issues.
It will be interesting to see how the 'right- to-repair' movement, which is aiming to open up wider accessibility to OEM parts to third-party companies, develops over the coming year.
Meanwhile, iSmash was affected during the pandemic when its walk-in centres were forced to close. These locations, where much of the firm's business is carried out, are usually in busy areas such as shopping centres, train stations and areas where offices are located.
"I guess most of our repairs come through our walk-in service centres," says Shovlin. "We're heavily reliant on customers coming in to get repairs done this way. This meant we did suffer due to restrictions limiting footfall."
But he thinks the firm has been affected no more than any other retailer during the pandemic and has also been able to adapt through its 'collect and deliver' service.
Launched last November, the service operates out of the busiest iSmash locations through a logistics partner that collects the customer's device via a courier after the service is booked online, then iSmash repairs it and the device is dropped back to them the same day.
"The service has been relatively popular," says Shovlin. "People still needed to get their devices fixed during lockdown and we continue to operate this service now.
"But it will be interesting to see how this changes now that people are beginning to come back to our repair centres. It is, though, a service that we intend to keep."
WeFix bookings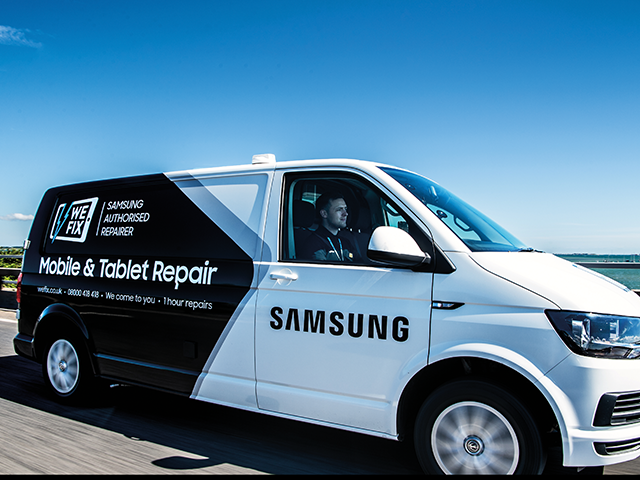 One business that has thrived through the pandemic is the 'we come to you' repair service WeFix.
The Samsung-accredited service, which was acquired by distributor Brightstar last year, covers more than 90 per cent of the UK population and supports repairs for both smartphones and tablets.
And the company reported that its repair bookings surged by 76 per cent last year, with WeFix also growing its fleet of mobile workshops.
"We have been one of the companies who have benefited hugely from the pandemic," said WeFix chief commercial officer Neil Spanwick.
"Obviously we are all heavily reliant upon our devices these days and with people working remotely, they don't have the same support infrastructure that they may have had before.
"So we invested heavily and quickly, ramping up capacity to ensure we could meet the inevitable surge in demand and introducing appropriate safety measures to ensure a contactless and sanitised doorstep repair process."
Despite the country gradually easing restrictions from this April and more people returning to offices, Spanwick says that demand has shown no signs of slowing down.
He adds that awareness of the service has grown during the pandemic, with customers finding the lack of waiting around convenient.
"The biggest transformation is the number of new customers who are contacting us," says Spanwick. "Awareness of our service has grown as a result of word-of-mouth endorsement, so we are seeing many new customers from referrals. This is particularly encouraging, as it shows that we are exceeding customer's expectations.
"Because our mobile workshops are kitted out with the same technology as a dedicated workshop, there really isn't much we can't do on our customers' doorsteps."
Spanwick acknowledges, however, that WeFix has had to deal with the hurdle of parts shortages during the pandemic too, even though he says this has not been too big a problem.
"Given the impact of the pandemic on global supply chains across hundreds of industries, there have naturally been challenges – nothing which is insurmountable, though, with good planning.
"We operate a robust and highly efficient supply chain, which means the right parts are available to our engineers when they need them."
Chipset shortages
Another big concern in the repair market globally relates to chipsets, which have been running short during the pandemic for a number of reasons.
These include a severe drought in Taiwan, the closure of factories in the early stages of COVID-19 and an unexpectedly resilient smartphone market, with demand for electronics surging in the last 18 months.
Mobio Distribution for one has noticed the pinch on chipset shortages, says Harrison, adding that costs have soared as a result.
"Factories are paying so much for their raw materials right now, especially for the chipsets with the price going up and up," he says.
Hannan also cited this as an issue, but says Ultimo Electronics has been able to get round it partly because its core focus is more on displays rather than chipsets.
WeFix also saw the impact of chip shortages, but only briefly, says Spanwick. "Some lines have been slightly affected for a short period of time, which has had some impact on repair lead times, but we invested in increased stock levels as we weren't going to allow our service levels to drop," he says.
iPad fixes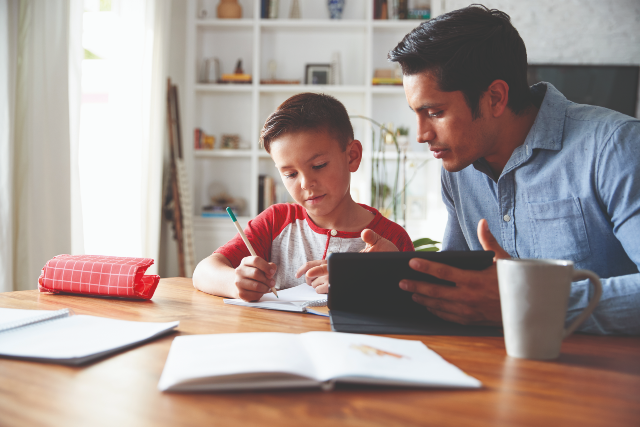 In terms of general trends in this market segment during the pandemic, Shovlin noticed a rise in iPad repairs – which he thinks was influenced by home-schooling and remote working.
"There was definitely a period over the last 12 months where iPad repairs were much more popular, potentially linked to children being home-schooled," he says. "We definitely noticed more tablet repairs being booked in."
Meanwhile, Harrison notes a shift in the types of repairs carried out during lockdowns.
Harrison said: "There were less repairs for screen damage, I think mainly because people have been locked in their houses.
"People aren't going out and dropping their phones in the street on a night out, but we certainly did see a big rise in such incidents immediately after restrictions were lifted. I've heard the same from other repairers."
Looking ahead, Harrison expects it to be a while before prices for parts go back to pre-pandemic levels and anticipates that the chip shortage will last for some time yet too.
"Everything we've heard suggests it's going to be quite a long time before repair parts get cheaper again," he says. "As a result, repairs will be more expensive on the high street.
"I'm also a little bit worried about what happens when people run out of money, because obviously savings levels have been at an all-time high during the pandemic as people haven't been spending money on luxuries."
Shovlin, however, is optimistic about the potential for further expanding the iSmash footprint across the UK, calling the property market more 'tenant friendly' in terms of finding locations as some others take a step back from the high street.
"It's been one of the positive outcomes of the pandemic for a company that would like to grow its physical presence," says Shovlin.
"We're seeing a number of other sectors where companies want to reduce their high- street presence and focus online instead, but for us we want to increase and strengthen our direct services.
"People still want a walk-in service and to get their repairs done within an hour."