Sales of Xiaomi smartphones grew 83pc YoY
Xiaomi has broken into the top two for smartphone shipments for the first ever during Q2 2021 according to Canalys.
The Chinese vendor accounted for 17 per cent market share for the quarter, just two per cent shy of top-spot Samsung (19pc).
It comes as the overall smartphone market jumped 12 per cent year-on-year, as the world shows signs of recovery from the pandemic.
And sales of Xiaomi smartphones grew by 83 per cent YoY, with the vendor experiencing success in overseas markets.
Canalys figures revealed that Xiaomi grew by 300pc in LATAM, 150pc in Africa and by 50pc in Europe YoY.
Canalys research manager Ben Stanton said: "Xiaomi is growing its overseas business rapidly. And as it grows, it evolves. It is now transforming its business model from challenger to incumbent, with initiatives such as channel partner consolidation and more careful management of older stock in the open market."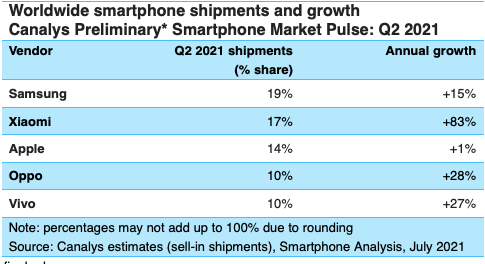 Challenge 
Stanton expects Xiaomi to be eyeing top spot from Samsung, but adds that Xiaomi will need to target the higher-end of the smartphone market to achieve this.
"It is still largely skewed toward the mass market, however, and compared with Samsung and Apple, its average selling price is around 40% and 75% cheaper respectively. So a major priority for Xiaomi this year is to grow sales of its high-end devices, such as the Mi 11 Ultra."
Apple (14pc) followed by Oppo and Vivo (both 10pc) completed the top five, as once again Huawei remained out of the top five.