Strong adoption of 5G in the coming years will take worldwide connections to 3.6bn in 2025
Worldwide connections to 5G networks is expected to treble to 670 million by the end of this year, despite the global pandemic.
That is according to research from analyst firm CCS Insight, following "sluggish developments" made last year in the earlier stages of the pandemic.
CCS Insight forecasts the figure to reach 3.6 billion connections worldwide in 2025, with strong adoption in the next 18 to 24 months.
By the middle of the decade, more than 75 per cent of mobile phones in North America, Western Europe and Asia-Pacific will have transitioned to 5G networks, adds CCS Insight.
"Although our near-term expectations have been dented, we remain optimistic that the global mobile industry will overcome these temporary challenges and will achieve 3.6 billion 5G connections worldwide in 2025," said CCS Insight vice president of forecasting Marina Koytcheva.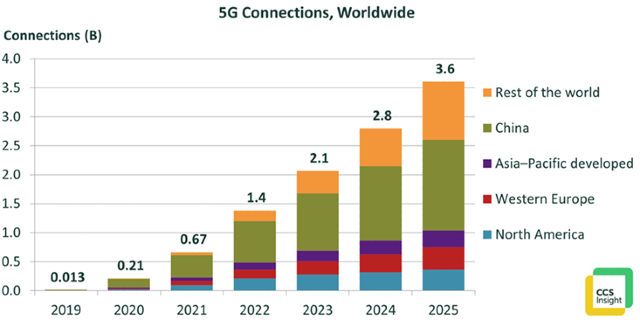 Leaders
South Korea and China continue to lead the way with 5G deployment, with a fifth of mobile phones in South Korea already using 5G.
And in China, the pace of adoption has seen seven out of 10 smartphones sold in the first three months of this year featuring 5G technology.
However progress in Western Europe has been mixed due to spectrum delays during the pandemic in some markets such as France, plus the uncertainty around Huawei.
But Koytcheva remains optimistic: "We have to give a nod to the role that smartphone-makers are playing in getting 5G handsets into people's hands, with prices set to drop as low as $150 in 2022."
"The global mobile phone market was dealt a significant blow by the pandemic and shrank by 13 per cent in 2020. Although its growth will remain sluggish in 2021 at just six per cent, suppressed by volatile demand and short supply of major components, the 5G segment will flourish and one in three mobile phones sold worldwide in 2021 will feature 5G."
The research also the Internet of Things will have limited impact in the next five years, as the pandemic has led to delays in standards and commercial deployment, while 5G fixed wireless access is expected to remain a niche technology.