Bigger growth is expected in 2022 as the post-pandemic recovery continues
A total of 1.65 billion mobile phones are expected to be sold this year, with figures up five per cent from last year, as the market continues its recovery.
That is according to figures revealed by analyst firm CCS Insight as part of its Mobile Phone Forecast.
The number is still down nine per cent on pre-pandemic levels in 2019, but CCS Insight expect the market to recover in 2022 with the number forecasted to hit 1.89bn.
This year's estimate is comprised of 1.38 billion smartphones and 270 million feature phones.
Although the market has showed signs of recovery this year, with North America experiencing growth, emerging markets have struggled as chipset shortage continue throughout the year.
The shortages of chipsets has particularly impacted on the lower end segment of the mobile market.
CCS Insight vice president of forecasting Marina Koytcheva said: "The mobile phone market's recovery is becoming a tale of two divergent stories. On the one hand, there are countries like the US, that are experiencing a solid macroeconomic recovery and where demand for new phones is growing nicely.
"But on the other, prospects in emerging economies are worsening as the pandemic drags on, denting our expectations of a speedy recovery of the mobile phone market."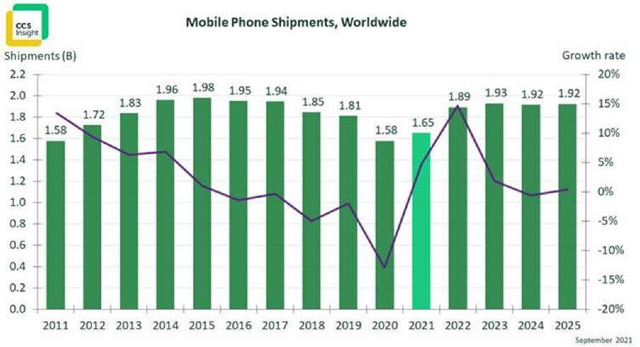 Recovery
Although the chipset crisis is predicted to continue until at least the end of this year, the longer-term outlook for the market is more positive.
The market will reach 1.89bn next year according to CCS Insight, with the number hitting 1.92bn by 2025.
The growth and transformation of 5G technology will fuel this market with almost half of global phone sales next year anticipated to support 5G technology.
This year alone over 560-million 5G capable phones will be sold, with this figure to hit 900 million next year.
"In the next three years, we should see the market spike above its pre-pandemic level, as deferred purchases materialize", added Koytcheva.
"Our expectations for 2022 and beyond are positive, but uncertainty remains. We continue to monitor the macroeconomic situation, component supplies, and above all the unpredictability of the ongoing global pandemic."