Operator ignores Supreme Court ruling overturning Biden demand for compulsory jabs in companies with more than 100 staff
T-Mobile has in the USA has defied a Supreme Court ruling that has stopped the Biden administration from enforcing a requirement that employees at large businesses be vaccinated against COVID-19 or undergo weekly testing and wear a mask on the job]
The network has told employees that anyone who does not get fully jabbed by April 2 will be fired. Staff who are unable to prove they have had the first jab by February 21 will be suspended on unpaid leave.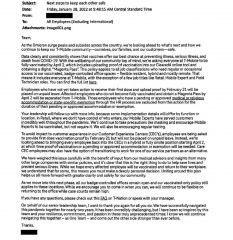 A redacted leaked email (above) to staff purporting to give the edict says:
"Data clearly and consistently shows that vaccines offer our best chance of preventing illness, serious illness and death from Covid-19. With the well-being of the community in mind we're asking everyone at T-Mobile to be fully vaccinated by April 2, which includes uploading proof of vaccination into our 'Cleared4' online tool and obtaining a digital Magenta Pass. This policy applies to all job classifications who need regular or occasional access to our vaccinated badge-controlled office spaces flexible residents. Hybrid and remote. That means it includes everyone at T-Mobile with the exception of a few job titles like Retail Mobile Expert and Field Technician roles.
The email to all US employees goes on to say:
"We have weighed the issue carefully with the benefit of input from our medical advisors and insights from many other large companies with similar policies and it's clear that this is the right rig to do to help save lives and prevent serious illness"
However, in a recent judgment, the Supreme Court of the United States threw out the Biden Administration's demand that all people at companies with more than 100 employees had to be vaccinated.
The Court said the Administration overstepped its authority by seeking to impose the Occupational Safety and Health Administration's vaccine-or-test rule on U.S. businesses with at least 100 employees.
A recent estimate from VAERS (Vaccine Adverse Event Reporting System) claims there were 9,136 domestic deaths reported as of December 14. VAERS data is used by the Center for Disease Control and the Food and Drug Administration.